Artificial turf is commonly associated with sports fields like baseball stadiums. So, just how many Major League playing surfaces are artificial turf? As of January 2022, there are five Major League Baseball stadiums with artificial turf, and twenty-five stadiums with natural grass surfaces.
Which five Major League baseball stadiums have artificial turf?
Chase Field in Phoenix, Arizona
Globe Life Field in Arlington, Texas
Loandepot Park in Miami, Florida
Tropicana Field in St. Petersburg, Florida
Rogers Centre in Toronto, Ontario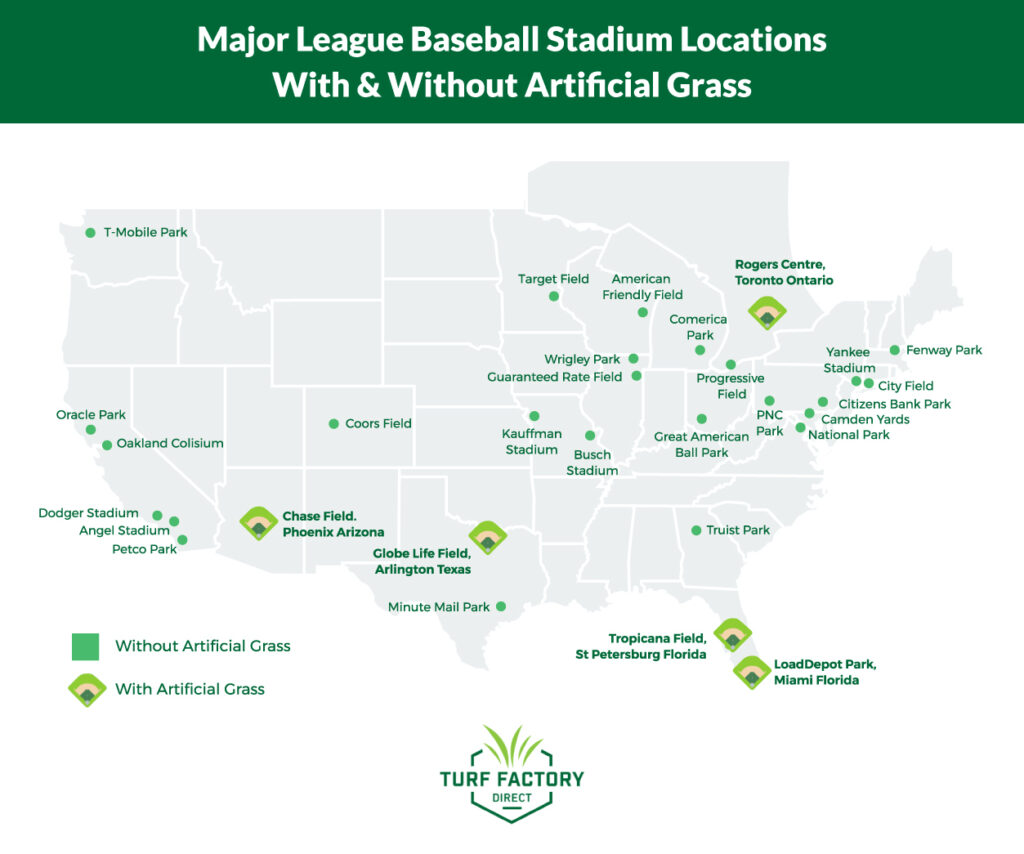 The History of MLB Artificial Turf
According to Clem's Baseball chronology, from 1970 until 1990, only one major league baseball stadium had a natural grass field: Arlington Stadium in Texas. During that period of time fourteen stadiums used artificial turf on at least part of the field during some or all of the years that major league baseball was played in them. However, no more than ten of those fields were in operation at any one time. 
Additionally, four of the stadiums that adopted artificial turf had natural grass when they opened: 
Astrodome
Busch Stadium II
Candlestick Park
Comiskey Park
Comiskey Park had an artificial turf infield from 1969 through 1976, but the outfield was always natural grass. It was the only dual-turf baseball stadium in the major leagues.
Candlestick Park was the first all-artificial turf stadium to go back to using natural grass in 1979, and three others eventually followed suit— Busch Stadium II, Riverfront Stadium, and Kauffman Stadium.
There have been two baseball-only stadiums with artificial turf: Kauffman Stadium and Tropicana Field. Eight baseball stadiums had artificial turf from their opening until close:
Astrodome 
Three Rivers Stadium
Veterans Stadium
Kingdome
Exhibition stadium
Rogers Centre
Tropicana Field
Olympic Stadium
By 1982, when the Metrodome opened in Minneapolis, 10 of the 26 teams played on artificial grass. In 2018, only two teams still played on an artificial grass surface: the Toronto Blue Jays at the retractable-roof Rogers Centre and the Tampa Bay Rays at Tropicana Field, the last domed stadium in baseball.
Artificial Turf vs Natural Grass in the MLB
Artificial turf came to baseball in 1966, after the grass at the Astrodome in Houston died from a lack of sunlight the year before and forced the Astros to play on dirt painted green. For domed stadiums, grass was not a viable option, as they learned the hard way in Houston. For the open-air stadiums, the logic for adopting artificial turf was ease of maintenance and the need for durability during those months when the field was subject to multi-sport use. 
Depending on where a team is playing, there are many drawbacks to a natural grass playing surface. For instance, at Chase Field, home of the Arizona Diamondbacks, Chief Executive Derrick Hall found himself getting a lot of complaints about the field, which hardened as the season progressed, causing the ball to bounce high and fast in a way players were not used to. 
On top of this, medical personnel worried that the dead sod might injure players, causing them to take a fall. Adding insult to injury, Arizona is a hot place, and the desert conditions often dried the grass out and the limited sunlight from the retractable roof made the field look bad. The one downside to artificial grass is that, unlike natural grass, it can retain heat from being in direct sunlight, but that can be easily cooled. Eventually, stakeholders decided that the best surface was the one to play on, not necessarily the most natural one, making artificial grass a grand slam. 
Why Turf for MLB?
The stadiums that replaced their natural grass with artificial turf share a lot in common: They play in cities with extreme weather and have retractable roofs. In Miami, the amount of rain and high humidity made growing quality grass a challenge, resulting in inconsistent and aesthetically displeasing surfaces. 
Back in Arizona, the Diamondbacks needed to keep the roof open to let enough sunlight in to keep the grass alive, but that left the players and the fans sweating in the blistering heat. With artificial turf, the roof can remain closed all summer, and still remain an ideal surface for the players and a green and attractive surface for the fans. (No wonder turf is the popular drought-tolerant lawn, it can even beat the Arizona heat.)
Turf: The Best Choice for the MLB
MLB stadiums that use artificial turf instead of natural grass do so because of circumstances of weather and stadium design. Artificial turf provides a compelling argument for a standardized and consistent playing surface for players, allowing for better training sessions, games, and less likelihood of injury. Additionally, they stay green year-round with no watering, weeding, fertilizing, aerating, or mowing, which also makes turf more environmentally friendly than natural grass! That makes artificial turf a home run in our book. 
Turf Factory Direct has the best turf at the best prices for just about any project:
Get in touch with us today to learn more and discover what we can do for you.