It's no secret the NFL has the highest average per game viewership and attendance in the nation, and is a popular sport globally. As such, it's important that the playing surface is in top condition.
It is worth noting that 14 of the 30 NFL stadiums in the United States have artificial turf, while 16 have natural grass. In the 2021-22 season, 16 NFL clubs played on artificial fields of varying types, while the other 16 played on grass or grass hybrids. But, which one is the best between the two? Keep on reading before you invest in your dream stadium.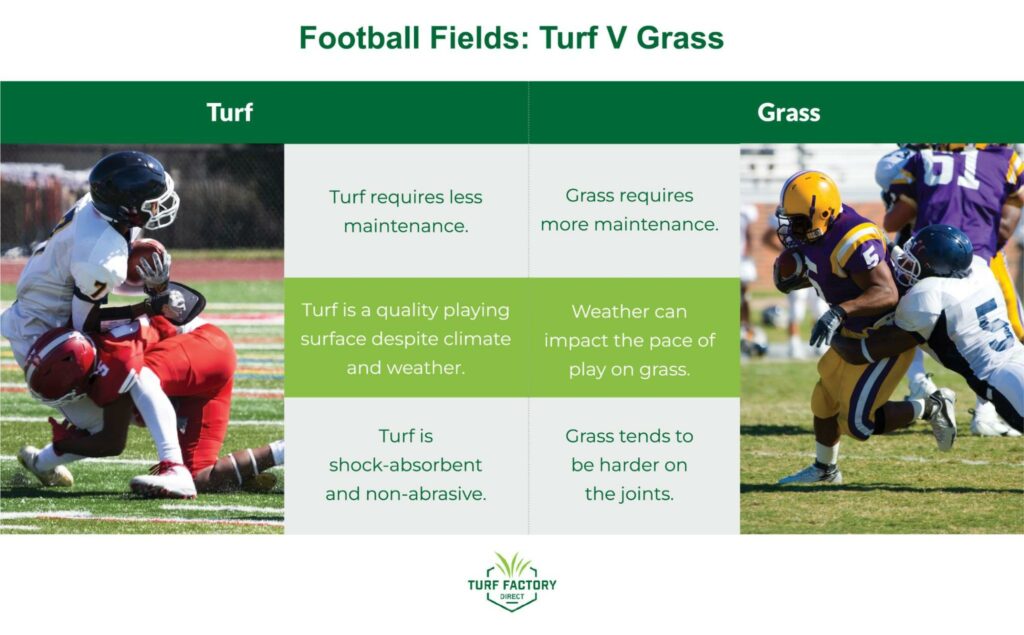 What Counts on a Football Field Surface?
1. Appearance
While the players are the stars of the game, the turf they play on is essential to their performance, as well as their reputation.  American Football is the most popular sport in America with over 100 million views annually, and the 9th most popular sport all around the world with a peak viewership of 114 million in 2015. Football stadiums also have the highest attendance with an average of over 66,000 people attending each game. That's a lot of eyes looking at that field for at least three hours. As such, the field should be level and even, bright and consistent, with no dead or bald patches.
2. Installation Time & Cost
The longer it takes to build a football stadium the more money it costs, and the longer it is before it can start generating revenue. One of the most important factors to consider when installing artificial turf is the price of installation itself and how long it takes. There is no fixed timespan or cost since all installations are not the same. The size of the field, weather, materials, labor, and surface conditions are some of the factors that determine the installation cost.
3. Maintenance Time & Cost
Players don't like running, jumping, or tackling in muddy or spiky dead grass, and no one likes looking at uneven and yellow and brown grass with bald patches. Maintenance tasks for football turf include aerating, fertilizing, mowing, watering, weeding, and painting to keep it in top condition for the players and the spectators.
4. Durability & Longevity
The extensive kicking, leaping, running, and cleats put a lot of stress on football fields. At the same time, they are also exposed to air pollution and UV rays, which can kill and discolor grass. Most of the fields used by institutions are used daily, which means having a durable and longer lifespan is worth the investment. If used frequently, natural grass can get trampled and discolored. When the weather is not friendly, say there is too much sun, the grass can die.
5. Consistent Surface for Player Performance & Safety
Football is a high contact sport, and players need to be at their best to score points and win trophies. Worst case scenario is that a player gets injured on the field. The most commonly sustained injuries by football players include:
Ankle sprains
Knee injuries
Quad, hamstring, and groin strains
Hip pointers
Shoulder dislocations
Acromioclavicular sprains
Wrist and hand injuries
Concussions
Player safety and comfort has been a point of contention among the natural vs. artificial football turf debate. But as turf technology has improved over the years, opinions are changing. In the last few decades, artificial turf technology has advanced considerably, and as this progress continues, players are now more protected and safer than ever before.
What is Turf?
Turf has a few meanings, but in football context, it's the surface they play on. Turf can be natural grass, or artificial turf. Artificial turf is a synthetic replacement for natural grass that is made to replicate and outperform the look and feel of natural grass. Turfs are usually made of nylon, polyethylene, and polypropylene fibers with a polyester backing. High quality turf includes a protective coating to prevent damage from ultraviolet radiation from the sun.
Properly installed turf has a compacted and leveled base layer of aggregate rock and sand for drainage and a stable surface. There may or may not be additional padding installed beneath the turf. Football turf is usually topped with an infill for drainage, ballast, and cushion that keeps turf fibers standing upright.
Why turf for football stadiums?
There are many reasons football stadiums choose to use artificial turf:
Turf is cost-effective
Turf is durable
Turf is consistent
Turf is attractive
Turf has low environmental impact
Turf is easy to maintain
Turf is safe
Turf has minimal installation time
1. Turf is Cost-Effective
Artificial turf installation is significantly more affordable over time than natural grass, especially in hotter and drier, or drought-prone climates, such as that of Arizona. Even on heavily used fields, turf care and upkeep are far less expensive than natural grass, despite the greater initial cost of installation. Although the initial investment in artificial turf is more, the annual labor, equipment, and repair expenditures are cheaper.
Typically, the average cost of installing an artificial turf football field ranges between $640,000 to $2,000,000. One huge advantage of turf is that it requires low maintenance, and it's much faster to install. As such, you are likely to incur $20,000 per year on labor and all the necessary supplies.
On the other hand, you'll spend $40,000 – $100,000 planting natural grass throughout the stadium. However, natural grass is high maintenance and takes longer to plant, bloom and start using the stadium. So, expect to spend $50,000 or more on labor and supplies necessary to keep the grass in top shape. Upfront, natural grass might be affordable to plant, but it's significantly more expensive in the long run.
2. Turf is Durable
Unlike natural grass turf, artificial turf  doesn't require any recovery time, which means more games and events can take place without interruption. Even under rain or shine, cold or hot, dry or wet climates, you can still use artificial turf without it getting discolored, torn, or crushed.
Artificial turf is designed to be used year-round, which means no more worrying about weather conditions like icy fields or muddy tracks. This makes artificial turf a great choice for teams that play in cold climates and bad weather months. Moreover, artificial turf can be used by sports teams other than football, including, soccer, baseball, golf, field hockey, rugby, and lacrosse. Turf can help these other outdoor sports stay active through the winter months when the grass in the outdoor fields might otherwise be frozen or covered in snow.
It is impossible to suffocate, burn, tear, or crush synthetic turf fibers like natural grass since they are synthetic. Even after thousands of hours of use over many years, the artificial grass remains green and lush. You can expect 500-1000 hours of usage before making minor repairs. A well-kept turf can sustain 3,000 hours of play annually and last 10 to 20 years!
3. Turf is Consistent
You are assured of a consistent playing surface when you install artificial turf. On the other hand, you have to constantly monitor for gopher holes, divots, and other problems when you have a natural grass field. Natural grass needs extensive upkeep to avoid damp spots, bald spots, and yellow and brown patches, which may have an impact on the outcomes of the game and, in some cases, give the team and the stadium a negative reputation.
While natural grass is more authentic, it has so many inconsistencies in how fast and unevenly it grows and cuts. It's no secret that artificial turf drains better than natural grass. If you've ever been out on the field during a heavy rainstorm, you know this to be true. The surface doesn't get soggy and slippery with artificial turf as it does with natural grass. Artificial turf fields are similarly attractive, but they have a much more consistent playing surface because they aren't organic. With artificial turf, you don't have to worry about whether or not your field will be ready for game time; once it's installed, you're good to go.
4. Turf is Attractive
When you use turf, you won't have to be concerned about yellow, brown, or bald areas. The appearance of your playing surface is important regardless of whether you will play soccer, baseball, lacrosse, softball, or any sport. Usually, artificial turfs are always greener, strong, and easy to maintain, while grass requires a lot of attention and resources to get it ready for game day.
5. Turf has Low Environmental Impact
Because turf does not need irrigation or chemicals to keep it green and lush like natural grass, turf is cost-effective and environmentally friendly. Artificial turf has multiple environmental benefits, including water conservation. A City of Novato study determined that if all NFL teams used artificial turf instead of natural grass, they would save nearly 5 million gallons of water annually, amounting to $25,000 in savings.
In addition to water conservation, turf uses no fertilizers, pesticides, or herbicides. These chemicals help protect grass to grow green and lush. But these chemicals also contaminate water and soil, posing negative ecological repercussions.
 6. Turf is Easy to Maintain
Artificial grass eliminates the need for watering, mowing and fertilization. Turf's minimal upkeep lowers equipment and staff expenses while freeing up time to do other things. If you go for artificial turf, you forget about the weather, damage, and maintenance concerns. It is why turf has been referred to as an all-weather sports paradise. All you need to do from time to time is to rinse and brush the fibers, and occasionally add infill where it has been lost.
On the other hand, natural grass surfaces may require irrigation water, weeding, mowing, pesticides, and fertilizers during maintenance. Maintaining natural grass football pitches ranges from $40,000 to $100,000 in equipment. Grass might cost as much as $50,000 a year in labor and resources to maintain on average.
7. Turf is Safe
Several studies have examined the advantages and disadvantages of natural grass and artificial turf playing surfaces. According to research by University Hospitals of Cleveland in 2019, high school athletes who play on artificial turf fields suffer 58% more injuries than those who do the same on natural grass fields.
However, artificial turf's fibers provide the needed traction despite the varying weather conditions. You will not experience the dirt and mud that occurs on natural fields when it rains or when the grass has been irrigated. One study on the Effects of Natural Turf established that athletes run faster on artificial turf than on natural fields.
Additionally, grass does not absorb shock as well as artificial turf, so it can be hard on joints, which can lead to injuries over time. Since natural grass doesn't have any cushioning capabilities like artificial grass, it's also harder than turf to play on. Many players report that at first it took some getting used to, but synthetic turf provides a much better playing experience and is more comfortable.
8. Turf has Minimal Installation Time
If you are in a hurry to set up a playing field, then artificial turf should be your top consideration since it can be installed and used within the same day. On the other hand, grass takes several weeks or months to seed and grow. Turf is ready to use right away after installation, and although it may need some maintenance, it is not as time-consuming as grass.
Turf Wins the Game
While there is still contention in the NFL about which is the better playing surface, when the score is added up synthetic turf is the winner. There are a number of factors to consider when installing football turf, and that's why Turf Factory Direct is here to help. We provide high quality turf at the best prices. Get in touch with us or start browsing our turf selection.