At Turf Factory Direct, we pride ourselves on our comprehensive knowledge of artificial turf, its uses, and the details of the manufacturing process. But that's us. We want you to have a full view of how it's made too, so follow along as we dive deep into what artificial turf is, how turf is made, where it's manufactured, and how the installation magic happens.
What is artificial turf, and what is it made of?
Artificial turf is a surface that is made from synthetic fibers (usually with a resin base), designed to look and feel like grass. It's used in a lot of different environments and can see use as a decorative feature, or with practical use in sports fields.
Artificial turf has come a long way from the early days of AstroTurf, which is what most people are familiar with.  The first-generation turf was generally just short fibers, but as we've moved into second and third generation turf, artificial turf is made with more complex materials, often treated with UV protectant and agents designed to make the turf softer, safer, and more environmentally friendly.
Modern artificial turf generally features a synthetic fiber with an infill, which leads to a much softer, gentler surface that is even and uniform. If you want to understand some of these technical terms in more detail please check out our list of 7 terms to know when buying artificial turf.
A little bit of history
The tufting process, which is the process of sewing synthetic polymers to a backing, was invented in the early 1950s. These tufting machines now can produce a 15ft by 3ft section of artificial turf in a minute!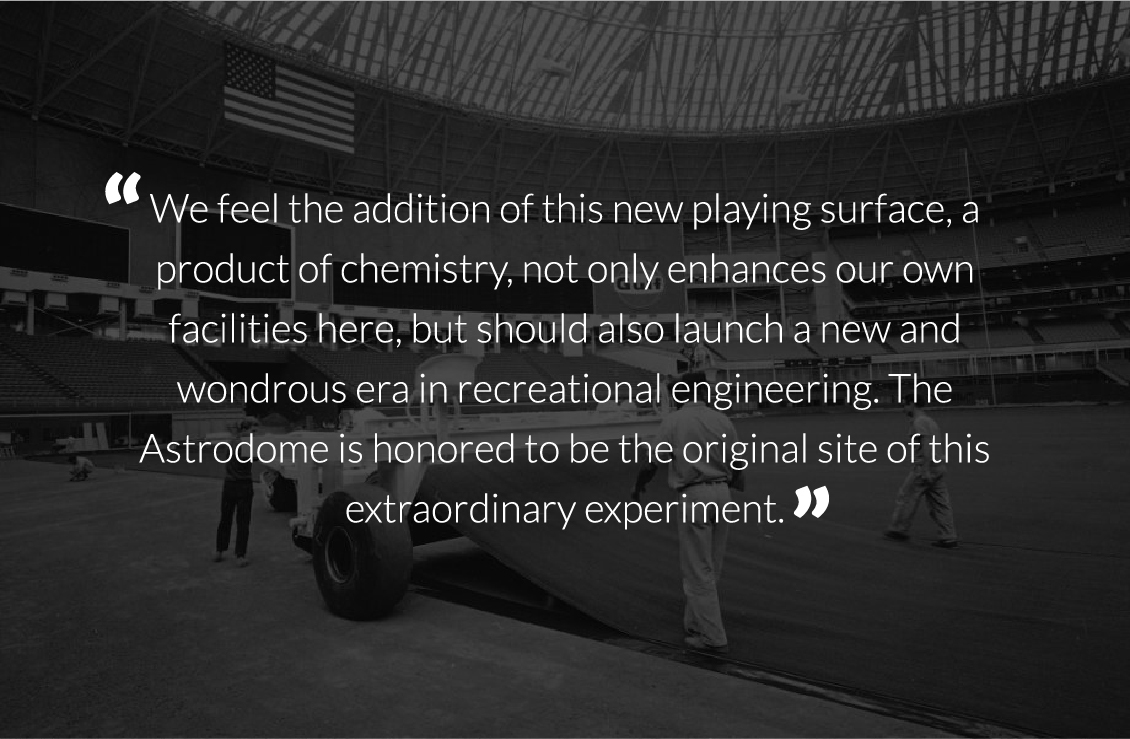 – Judge Roy Hofheinz, A Key Player in the Design of the Houston Astrodome
In the 60s, the Ford Foundation spurred the development of synthetic playing surfaces for urban spaces. The first of these surfaces was called Chemgrass and was installed at a school in Providence, Rhode Island. The first professional use of the material saw use in the Astrodome in Huston, Texas, in 1966. That's where the name AstroTurf comes from.
3M (Minnesota Mining and Manufacturing) Company joined the party shortly after with its own version of AstroTurf called Tartan Turf, and with that, the artificial turf revolution was born.
What's the manufacturing process like?
Mixing 

– First, the materials necessary are added to a hopper, which is basically a giant basin. Dyes and resin combine to make a taffy-like mixture that is resistant to ultraviolet radiation and is colored correctly for whatever application it will see.

Extrusion 

– The taffy-like substance is then subjected to an extrusion process, which basically involves stretching it out into extremely thin fibers which are then woven and spooled similarly to a ball of yarn.

Tufting – 

This is where the magic happens. Depending on which type gauge the turf is constructed at, the artificial turf is fed through the machine, and then hundreds of needles weave the fibers into the backing. The process is called tufting, and it's pretty impressive to behold.

Coating

 – Finally, artificial turf is coated with its final backing.  The backing is polyurethane material and is applied through a coater as the material moves through the process.  In addition, if the artificial turf has added padded backing during the coating process a precoat of polyurethane is applied with the foam material following as the final backing.   There are few other backings available such as natural rubber on certain putting green products.
Installation
While we go into greater detail in our artificial turf installation guide, here are the basics of installation, so you can have an idea of the process, as the manufacturing of artificial turf informs the installation and vice versa. How artificial turf is installed is not a complex process, but one that requires some hard work and elbow grease.
First, the area where the turf is going to be laid is compacted, using either hand tools or a mechanized roller. An even, level surface is essential when laying artificial turf, because any elevation changes will be obvious.

In outdoor applications, drainage systems are often installed as the artificial turf often cannot absorb any rainwater.

The turf is rolled out over the level surface and then fastened to the ground using stakes or nails.

If a turf system is filled

, it will have cork, rubber, or sand spread over it and raked down in between the fibers. This makes the surface a bit more of a natural feel, and also increases the give and take of the material.
Take a look at our article if you're interested in how to maintain turf after its been installed.
Great, how can I get some?
We're glad you asked. If you're looking to get some of the best artificial turf around, Turf Factory Direct is the premier distributor of high-quality artificial turf and grass. Our team of friendly, knowledgeable professionals are here to answer any and all of your questions, so you can find the right surface for whatever job you're trying to accomplish.
Get in touch with us for more information, or browse our products. Thanks for stopping by!
Images cited:
Hlavaty, Craig, "The Astros beat the Phillies 8-2 in the first major league game played entirely on the AstroTurf artificial surface." Chron, Associated Press, July 19, 2016, https://www.chron.com/news/houston-texas/houston/article/50-years-ago-this-week-the-world-was-introduced-8386407.php