,Artificial turf, unlike sod, can be stored for a long time under the right conditions, which means you can take advantage of a sale or good deal to stock up on cheap turf when it's affordable, and then store it until you're ready for installation. If you've purchased some artificial turf, and you're not sure how long you have to install it, don't worry. This article is here to help you.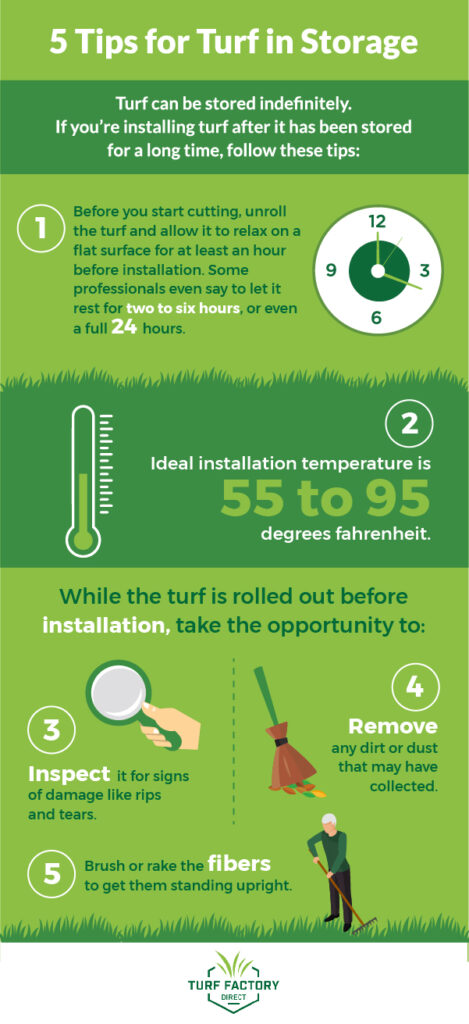 What's the actual time frame for artificial turf installation?
Since artificial turf is just that — artificial — it can be stored indefinitely. Sod has a shelf life of 12 to 24 hours once harvested for installation. When correctly installed and properly cared for, turf can last 15 to 20 years.
6 Advantages of Artificial Turf
In addition to its long shelf life, synthetic turf has many advantages over natural grass lawns. 
1. Turf is attractive
Well installed and maintained artificial turf looks beautiful all year long. Want a verdant, green yard all year-round? No problem with artificial turf. On top of all that, turf can increase curb appeal which can increase property value and help sell a home fast.
2. Turf is versatile
Artificial turf can not only replace natural grass, it can be used for a number of applications that natural grass can't, such as roofs, concrete, wood decks, and around pools! You can explore landscaping inspiration and discover how versatile turf can be in our guide to Inspiring Artificial Turf Ideas.
3. Turf is safe
Artificial turf is non-toxic, not a choking hazard, doesn't get muddy and slippery when wet, and is non-abrasive and shock absorbent. Overall, turf makes for a kid-friendly, pet-friendly, athlete-friendly, and even klutz-friendly surface. Plus, you can add additional cushioning with rubber shock pads to make sure that it's even softer and less unsafe for roughhousing and falls. You can also anchor a swing set to turf!
4. Turf is low-maintenance
Artificial turf is easy to maintain. No watering, mowing, fertilizing, or reseeding required, and weeds and pests are kept to a minimum. All you need to do is make sure that it properly drains, and is cleaned bi-weekly or monthly. 
5. Turf is budget-friendly
Keeping a lawn green in drought prone neighborhoods can be challenging and a waste of a precious commodity — water. Turf lawns save water, money, and time that would be spent making your lawn attractive, without having to give up the lush greenery. Some cities offer homeowners a rebate to encourage more conversion to artificial turf to conserve water. Find out how much artificial turf can save you by checking out Understanding the Costs of a Natural Lawn.
6. Turf is environmentally-friendly
It helps you reduce and prevent use of harmful chemicals like fertilizers, pesticides, and herbicides that contaminate the ecosystem. You can learn more about The Water Saving Benefits of Artificial Turf and why it matters from The Importance of Water Conservation.
Turf FAQs
Everybody's got questions, here's some of the most common questions in regards to turf storage. 
Does turf get moldy?
Under the right conditions, mold, mildew, and fungus can grow on turf. Mold growth usually isn't a major concern with turf lawns because most turf infills include an antimicrobial coating to prevent bacterial growth. Additionally, the turf spends an extended amount of time in the sun, which helps prevent mold growth. 
If you stored turf for an extended period of time in a dark, cold, and moist environment, there's a chance of mold growth. When stored in a dry environment, there is a reduced chance of mold growth on turf. 
In particularly wet climates with limited sunlight, mold and fungus are more likely to appear. This is especially true if pets regularly do their business on the lawn. However, this is easily prevented by proper cleaning and care, and it's easily remedied if it starts happening. You can prevent odors, stains, and mold from appearing by regularly removing debris and solid waste, in addition to spraying the turf with water weekly. 
If you do spot mushrooms popping up, vinegar or hydrogen peroxide solutions will kill the mold spores, and end any musty odors. 
Does turf expire?
No, as a synthetic material, turf does not expire in the same way as organic materials, such as natural grass and other plants. 
How long does turf last?
When properly cared for and managed, turf can last 15 to 20 years.
How to clean turf?
If you're looking for some tips for keeping your turf squeaky clean, we have plenty of helpful ideas for you. If you've got pets, there's plenty of assistance here. 
How to fluff flattened turf?
The easiest way to get turf standing upright is with a rake, broom, or a specific tool for fluffing artificial turf. 
If you're installing turf after it has been stored for a long time, unroll it beforehand and lay it out flat. This will let the turf rolls decompress for proper installation, which helps prevent problems like warping and future bubbling, rippling, and tearing. 
While the turf is rolled out before installation, take the opportunity to:
Inspect it for signs of damage like rips and tears
Remove any dirt or dust that may have collected
Brush or rake the fibers to get them standing upright
Before you start cutting, unroll the turf and allow it to relax on a flat surface for at least an hour before installation. Some professionals will even say to let it rest for two to six hours, or even a full 24 hours. Ideal installation temperature is 55 to 95 degrees fahrenheit. This is an important step because the panels of turf will be compacted and prone to curling up from being packaged. 
Turf Factory Direct is here for all your artificial turf needs, and whether you're making a playground, an indoor gym, batting cages, soccer fields, or anything else, we've got the tips and tricks to make your landscaping attractive and low maintenance.