The real estate market is both fickle and subject to constantly changing trends. Selling a home both quickly and competently is a real challenge, and with the tips here, you'll be one step ahead of the competition. According to the National Association of Realtors (NAR), as of June 2020, the average time it takes to sell a home is 55-70 days, and the typical home was on the market for an average of 24 days. But what are you to do when you're in a time crunch? 
At Turf Factory Direct, we may not be realtors but we do know a thing or two about helping prepare a house to sell. One of the first tips to sell a home fast is to get an artificial grass lawn. Keep reading to find out how you can expedite the home selling process, as well as find more helpful resources to help you prepare to sell a home.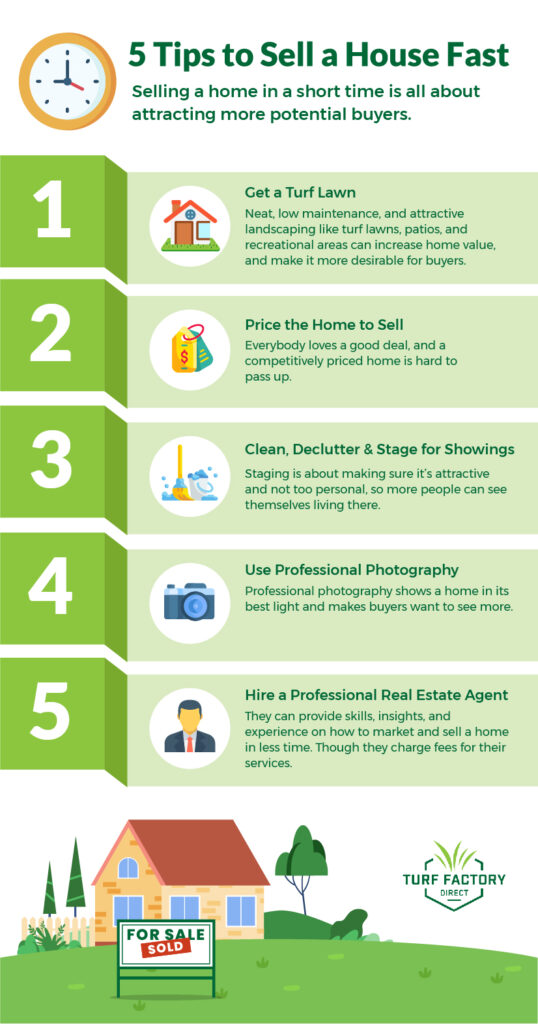 Look at the Comps
The secret to success? To start, look around and see what everybody else is doing. You can identify what they're doing right, and how you can do even better. Comps refers to comparable properties nearby, which factor into the evaluation of the home's value during appraisal and the shopping process. For another home to be considered a comparable property, it must meet the following criteria:
The size of the home is within 20% of the evaluated home

The location is within one mile of the evaluated home

The comp home was sold within the last 90 days
Comps can also be thought of as competition, so if you want to sell your home fast, think about how you can make your home more attractive to buyers than others on the market. Diving into the comps can be a very efficient way to determine how to differentiate your home. 
DIY or Use a Realtor?
One of the first questions when selling a home is whether or not to take advantage of the expertise and network of a real estate professional and pay a commission, or go it alone and keep more of the check. 
Selling FSBO
For sale by owner (FSBO) is a popular way to sell homes, and one of the major benefits is that it saves you money on commission. However, if you want to sell fast on your own, you'll have to be prepared to negotiate like a pro. Be ready to negotiate escrow timelines, juggle contract paperwork, and consult an attorney to make sure all forms are filled out correctly. 
Knowing the ins and outs of the process is especially important if you need to sell your house fast. This post won't go in depth into that process, but make sure you do your due diligence. 
Hire an Agent
The upside to hiring a professional real estate agent is that they know what it takes to get a house sold quickly in your area. Real estate agents are used by most people, and for good reason, as they'll streamline things like contract prep work, negotiations, signing and closing. 
However, you'll have to pay them a three percent commission for their services.
Here are some other things a real estate agent will do to ensure your homes sells fast:
Price your home accurately from day one. Homes priced fairly sell much quicker than those that are not.

Provide exceptional photography. The first impression of any buyer will be the photos they see online.

Write detailed listing descriptions. Not only do the best real estate agents provide great photography, but they take the time to write compelling verbiage highlighting a home's best features.

Ensure your home is enhanced in all of the most visited real estate websites home buyers frequently visit.
Alternative Ways to Sell Your House Fast
If you want to completely bypass the preparation it takes to sell your house in a hurry, consider these alternative strategies:
Sell to an investor.

You will sell quickly but may get less than market value.

Sell to a developer.

This is usually only an option if your home is a teardown and/or on a large lot.

Sell at an auction.

You can sell quickly by auctioning off your home, but you are likely to sell for a lower price than on the local market.
Curb Appeal & Landscaping Help A House Sell Faster
First impressions are important, and the same is true for neighborhoods and homes when homebuyers are shopping. Most real estate agents will tell you that curb appeal matters, and it really does. Curb appeal is one of the 5 factors that increase property value. According to landscape economist John Harris, keeping up with good lawn maintenance can contribute to 28% of your home's overall value. 
Due to the massive impact that curb appeal has on real estate value, the American Society of Landscape Architects (ASLA) recommends homeowners invest 10% of the home's value in landscaping, while Better Homes & Gardens recommends spending 5%-15% of home value on landscaping.
Since home value is dramatically impacted by landscaping, you want to choose landscaping projects that are impactful as well. Projects that help save time, money, and water like installing a turf lawn, can go a long way to helping sell a home in less time. 
Lawns & Landscaping 
Your curb appeal should start with the condition of the grass, landscaping, and any other foliage near the front of the property. Landscaping improvements can be as simple or as complex as you want to make them. A good place to start is with the quintessential feature of an American home, the lawn.
Burnt or dirt patches make the property feel old, dated, and neglected. In most cases, the fix can be as easy as planting seed and watering the yard for a few weeks. But if you're in a rush, this can be time consuming and can take too much time to be effective at quickly selling the home.
Instead of spending weeks trying to improve your lawn to sell, get an artificial grass lawn! It's green, lush, easy to care for, and saves water! 
Turf lawns are attractive, durable, and low maintenance. Above many other upgrades, one of the quickest ones to raise curb appeal is a quick upgrade to artificial turf. It can take as little as a day to install an artificial turf lawn. On top of that, there are a number of reasons a turf lawn makes a home more attractive to potential homeowners when compared with a natural grass lawn. Artificial turf is so versatile that you can put it almost anywhere:
Talk to the turf experts at Turf Factory Direct for more information. 
In addition to the lawn, take a look at other foliage. Overgrown or dying bushes are an eyesore, therefore they must be trimmed or removed. If you have a flower garden, make sure it's weeded and consider a fresh layer of mulch.
To get a full picture of the home's curb appeal, drive down your street and take note of the first thing that stands out upon pulling up. 
Exterior Paint
In addition to the paint, you also have to look at the siding and exterior of the property itself. A dirty exterior is something that should not be ignored. Getting a team in to power wash the property, and possibly apply a new coat of paint can be massively beneficial. 
Driveway
Another exterior area that is often overlooked is the driveway. You don't need to replace or reseal your driveway, but it shouldn't be in poor condition either. Driveways full of weeds or cracks won't present your property in the best light. Fixing this can be as easy as a bottle of weed spray and twenty minutes of labor. If you are on a budget, be sure to touch up only the parts that need the most work.
Front Door
What is the one item that is almost impossible to ignore every time you walk into your home? The answer is your front door. Instead of replacing the door entirely, start by seeing if a fresh coat of paint will be enough to give it an updated look. If you are looking for a more permanent fix, a new door is certainly money well spent and will come with an impressive ROI.
Other Curb Appeal Ideas
Checking around your house for possible updates is one of the best ways to drive up the curb appeal of your home. Assess which items around the house might need updating, and if they can be done affordably.
Clean any mold and mildew, and do your best to eliminate any sources of moisture that may be the cause of the problem.

Clean windows and gutters, and make sure they are in good shape.

Upgrade the mailbox, which can greatly improve curb appeal if it's in front of your house.

Get new house numbers, and try to match the aesthetic to the rest of the home. Old, fading, or broken house numbers can decrease curb appeal and should be replaced. Stand out from the crowd and hang

turf house numbers

!

Store or disguise tools and equipment. Nobody wants to see the equipment you use to maintain your property. Everything from trash cans to hoses to lawnmowers should be hidden. You can conveniently eliminate the need for eyesores that are yard tools and their storage by

installing a turf lawn

!

Light up the curb! It's in your best interest to make sure the home is just as attractive at night as it is during the day. Add a decorative lamps to your front porch, along your driveway, sidewalks, and near important landscaping elements 
Home Improvements to Sell Faster
A number of home improvements can be made to help prepare a home to sell. Larger renovations that make a big impact on buyers, like new kitchen counters, or a new bathroom, but they also take a lot of time and preparation. Fortunately, not every home improvement is as big a project as remodeling a room. Smaller renovations can be done to help make a home more appealing to buyers and sell faster:
Apply a fresh coat of paint

Install new hardware on kitchen and bathroom cabinets

Replace old or outdated light fixtures

Purchase newer and/or matching appliances
Read about how much to spend when preparing your home to sell to learn more about home renovations with a high return on investment. 
Maintenance & Repairs
Old paint and stained carpets are one thing, but leaky roofs, bad wiring, or a sinking foundation not only discourages buyers, but will stop any chance of selling until the property is brought up to code. These kinds of problems can be expensive and time consuming to address and repair, but regular maintenance makes it easier to catch them sooner and address them before they become a bigger problem and a bigger expense. Small repairs and improvements can be made to help make the sale:
Patch up spots where paint is peeled or scratched

Fix loose tiles

Repair loose door handles

Tighten leaky faucets
One of turf's benefits is its easy maintenance. You don't have to worry about keeping it mowed, weeded, fertilized, or watered to keep it attractive.
All that time saved on lawn care can be better spent on other maintenance or updates to the property and therefore a chance to add more value. And the fact that future owners don't have to maintain it is also attractive to possible buyers. 
If you've happened to neglect your lawn to the point that a speedy recovery is not an option, installing a turf lawn is a good weekend DIY project. You may be able to install a turf lawn yourself in as little as a day under the right conditions, or with the services of professional installers. 

Staged Homes Sell Faster
On average, staged homes sell 73% faster than unstaged home. If that isn't enough to get you started with a home stager, we don't know what is. 
Home staging is what happens last before you start trying to make the sale. A staged home is one that has props, decor, furniture, and wall art. Everything is tastefully arranged to be more inviting. Staging almost never raises the value of your home, but it does work very effectively as a marketing tool. 
According to The Barker Team Realtors, data from NAR report tells us the below information:
Realtors representing both buyers and sellers agreed that the living room is the most important room in a home to stage, followed by the master bedroom, the kitchen, and then the yard or outdoor space. 

The guest bedroom is considered the least important room to stage.

Other presale projects include depersonalizing the home, removing pets during showings and making minor repairs.

38% of buyers' agents said that staging positively affects a home's value if the home is decorated to the buyer's taste, meaning that a home's staging should be designed to appeal to the largest number of potential buyers.
Hone The Marketing Strategy
This is normally what you hire a realtor to do, but if you decide to go it alone, or even add your efforts to a realtor here are some things you can do to get the word out. There's a few unique options here, and they're also possibilities for discussion with your realtor. 
Go social.

Use social media to let people know your home is on the market, and make sure to post nice pictures. Don't forget to make posts shareable to help spread the word.

Open houses.

Have an open house to attract buyers and create an opportunity for a sales pitch.

79% of all buyers

rate in-person visits as extremely or very important. Covid has put a damper on in-person showings for now. Luckily, there are also virtual open houses as an option to help make buyers and sellers more comfortable. 

Professional Photography.

If a picture is worth a thousand words, let them do the talking to help you sell your home. Use a professional photographer and use images in ads and listings to make it more attractive to viewers.

Know the Buzzwords.

When you're listing your home, make sure you're familiar with both the local lingo and homebuyer jargon. You don't want to look bad when somebody throws the word "turnkey" at you. By including the right keywords in your listings, more eyes will be on your listing, and therefore your home. 
Marketing and real estate are entire professional sectors that people make a career of. An important aspect of a marketing strategy is being able to understand the market and understand how to form a strategy for it. You'll be competing with realtors if you're trying to do it yourself, so in many cases, it might be better to join the crowd rather than try to compete with it. 
Price The Home to Sell Fast
One of the straightforward ways to sell your home quickly is to list at a price that's under market value. Your realtor can assist with this, or you can get an appraisal. Remember, this is a double-edged sword. You're choosing between getting less money sooner, rather than possibly more money later. 
Particularly in a down market, buyers are looking for a deal, so do your best to make them feel they get one by "sweetening the pot." You can do this by offering to pay some or all of the closing costs, including appliances or curtains, or offer an allowance for renovations and decoration.  
However, if homes in your area are going at prices way over their listed value, pricing lower might be a good bet. Having a sense of what your house will appraise for compared to other houses in the neighborhood and on the market can give you a sense of where to go next. 
From Selling to Sold
Selling a home quickly can be a real challenge, but it can be done. Get started with an attractive and easy to care for lawn that even the HOA will love. some artificial turf, which you can get at an affordable price with expert help, and it's sure to raise curb appeal. Get in touch with us for all your turf inquiries.