We decided that artificial turf needed its own inspo album. Most people think that artificial turf is just for sports, and an artificial turf gallery is just a bunch of football turf images, but here you'll find a lookbook and hundreds of reasons to start your own artificial turf project. Turf is not difficult to install or to maintain, making it an invaluable home improvement project. Let's get creative and functional!
The Future of Landscaping
Artificial turf is definitively the future of landscaping, replicating the beauty of natural grass while requiring little maintenance. It's more resilient to drought and foot traffic, and there are unlimited applications for this versatile material. Turf allows homeowners, contractors, and designers a medium to work with that they can control to fit their needs.  No weeds or uneven color or distribution to tarnish the appearance of your immaculate garden. 
Skeptical? We'll walk you through many of the applications for artificial turf, as well as giving you ideas and inspiration for your own projects.  And don't worry, we have a great artificial grass photo gallery for you to look at too.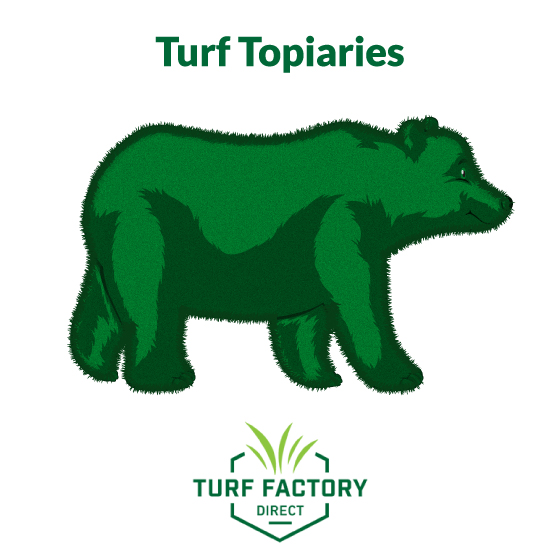 1. Modern Landscaping 
Think natural grass has the advantage in landscaping? Artificial grass can be cut to fit any space and used to easily create definitive lines. It is even more versatile than natural grass because it can be placed in locations where grass may not survive, like shady areas or hot climates. Its durability gives it the edge for versatility and appearance. Select your color, length, and texture, and put it where you want it.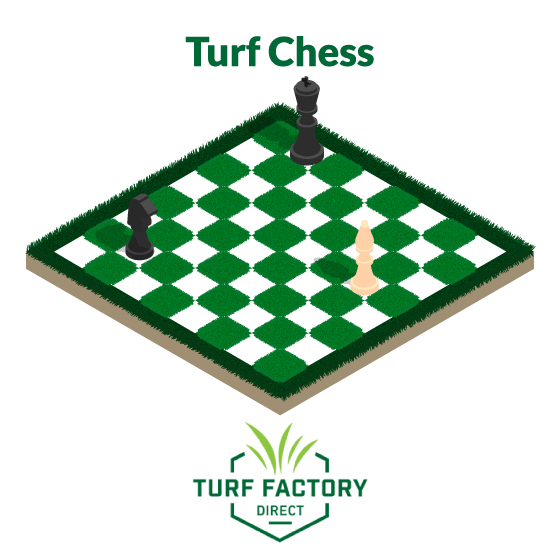 Turf can be a feature on its own or it can be used to highlight other focal points in a given space by providing texture, color, and easily definable lines. Creating landscaping features, shapes, and patterns is easy with artificial turf–all you need is a utility knife and some spare time. 
If you have areas where you need to create contrast and balance natural foliage like trees, flowers, shrubs, and rocks, artificial turf can be highly advantageous for creating a space that's perfect for events, everyday living, and anything your creative mind can come up with. Check out our landscaping turf selection.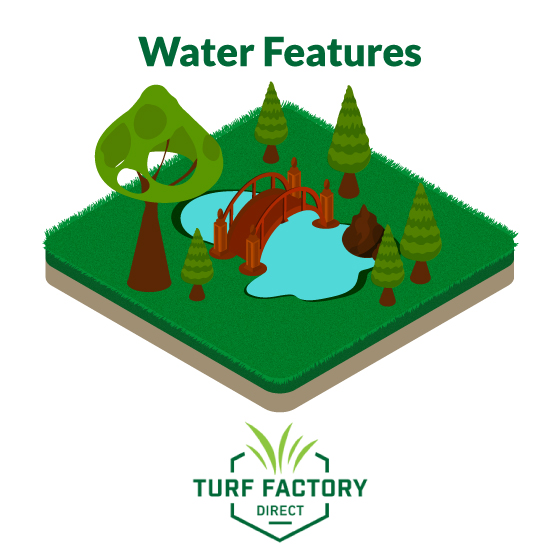 2. Water Features
Ponds, fountains, streams, and waterfalls are a great way to add something special to a garden, though they require a lot of upkeep–water filtration, removing debris, and keeping away unwanted wildlife. Surrounding a water feature with turf is a way to eliminate some of that upkeep. Turf helps prevent erosion, always looks neat and tidy, and can stand up to flooding and excess water, unlike natural grass, which can get muddy and look unkempt.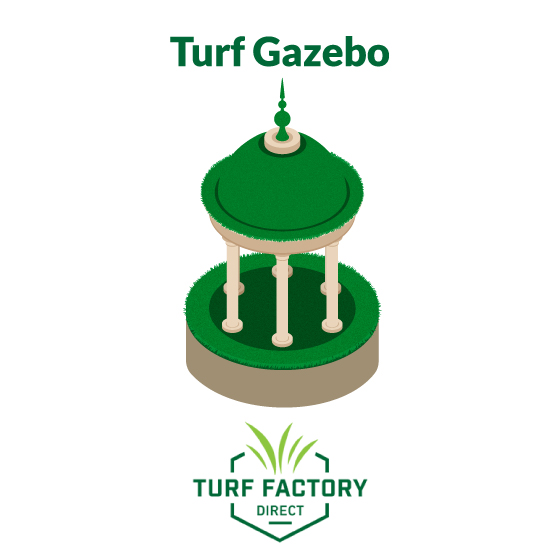 3. Gardens 
Use in combination with plants in gardens and around water features–even line gazebos and structures for a feeling of natural carpeting without the requisite maintenance.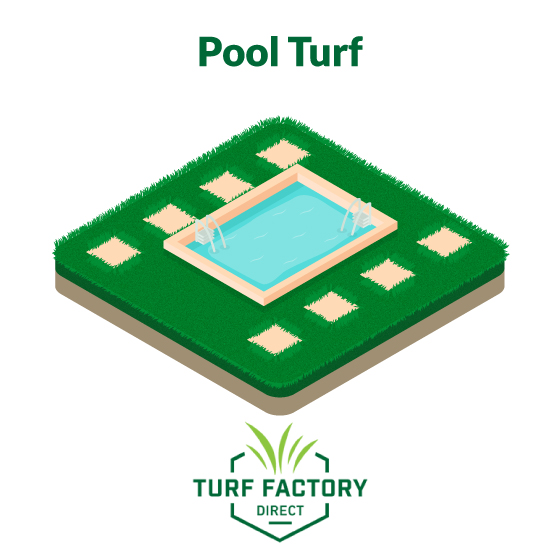 4. Surround a Pool 
Pools and water features can be lined or surrounded with artificial turf for a unique look that's second-to-none. It looks nicer than concrete, and won't get muddy and slippery like natural grass.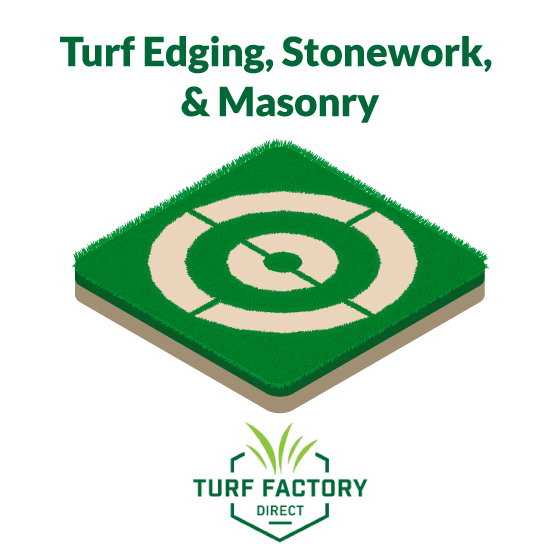 5. Attractive Edging 
Artificial turf has the edge–whether you're placing it up against concrete, stone, wood, or glass–turf looks attractive when paired with any other type of material. Wood frames and trim paired with artificial turf have a rustic and clean look. Use around rocky features, creating an attractive and useful drainage system. 
Want to build a garden with detailed stonework and masonry, but the grass keeps overgrowing around it and obscuring it? Turf is the solution to provide a natural accent to stonework without having to worry about constant trimming and maintenance.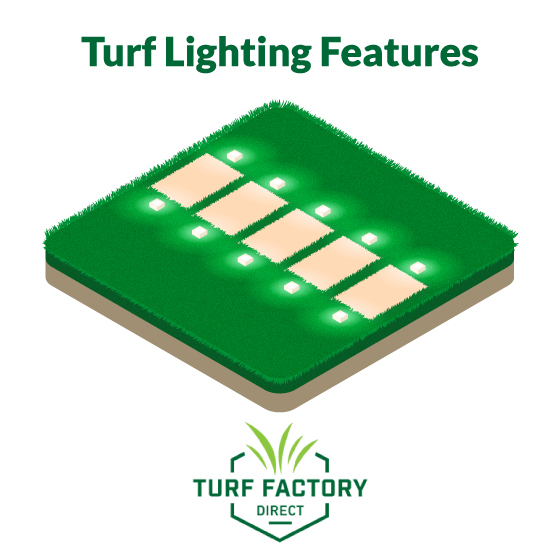 6. Light Up the Garden
For an extra spectacular landscaping effect, use some mood lighting! Highlight your garden at night, or the lighting can be its own unique feature. The turf won't overgrow and obscure the light fixtures, making it a great option for using in combination.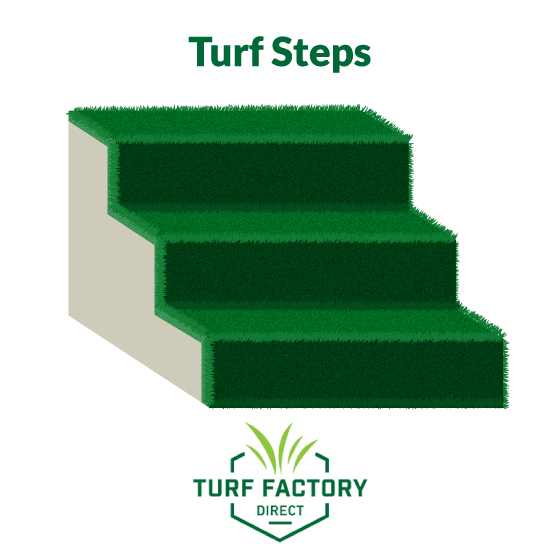 7. Steps
Turf on steps adds a nice touch to ordinary stairs and is a great way to provide traction and prevent slips and falls. If that inevitable trip and fall does happen, turf can provide some extra padding, which sure doesn't hurt.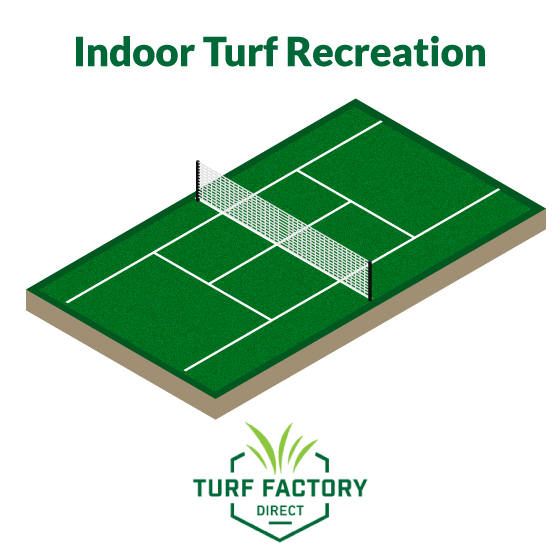 8. Indoor Sports
Turf is the MVP of surfaces for sports fields and athletics. Whether it's soccer, football, or an indoor space for kids and pets to just run around without fear of slipping, falling, or spilling, turf provides traction and padding for athletes to up their game, and doesn't require the upkeep or have the limitations of natural grass. We can help you make a game plan, start by taking a peak at our selection.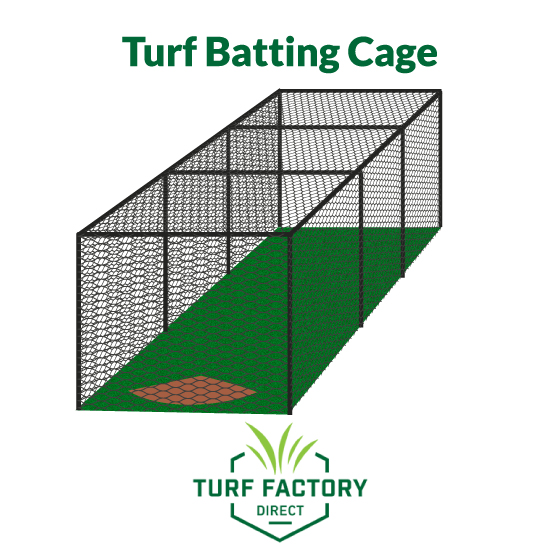 9. Batting Cages
Whether indoors or outside, a batting cage is a great place to practice your swing. Natural grass is not ideal for a batting cage, but artificial turf is. In addition to being attractive, it provides cushion and traction, without the upkeep of natural grass. Browse our major league worthy selection of turf and start practicing to become an allstar.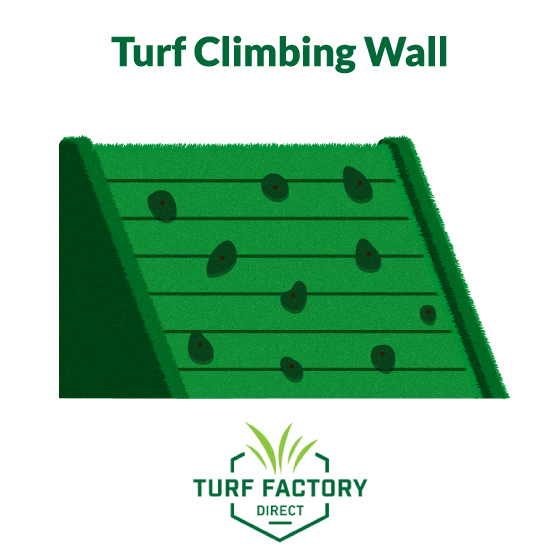 10. Turf Climbing Wall
Climbing walls are a fun activity to get in shape. Adults and children enjoy embracing their inner-monkey and seeing how high they can climb. A lot of climbing walls have a rocky texture that the hand and foot holds are attached to to recreate the effect of climbing a real rock wall. Turf is a great way to mix it up and bring a little more texture and color to the space. A bonus is climbers are less likely to scrape their knees and hands on the rough surface. Turf could also be used at the base of a climbing wall for extra cushioning and a nice appearance to keep with the theme of recreating a natural setting.

11. Turf Gym
Working out in an indoor gym gives you the luxury of being able to control the environment–from lighting and music, to temperature and humidity. Turf makes a gym even more luxurious. Turf is a way to exercise safety and proper fitness by providing traction and padding to help prevent slips and injury. Whether it's aerobics, pilates, weight-lifting, or karate we can help you find a turf to fit your indoor needs.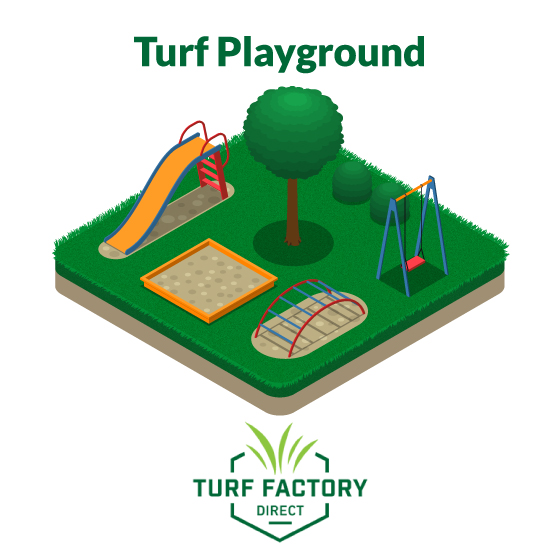 12. Create a Play Area 
Artificial turf can create a perfectly groomed and safe play area. Playground turf is even its own specific category we offer. By adding additional infill and padding, you can make a safe spot for kids to roughhouse, that will by mud and grass stain-free. Additionally, if you're looking to install a jungle gym or something similar artificial turf can provide a safe space underneath!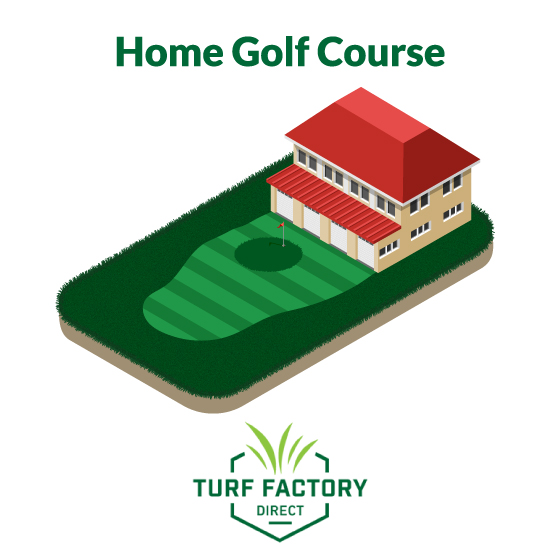 13. Create the Perfect Home Golf Putting Course 
Why go to the putting green when you can make your own? Whether indoor or outdoor, you can create the perfect landscape for golf practice. Turf means you don't need to worry about dead grass, vermin, mud, flooding, weeds, or trimming, and can practice your game rain or shine. Take a look at our selection of putting turf, and tee up.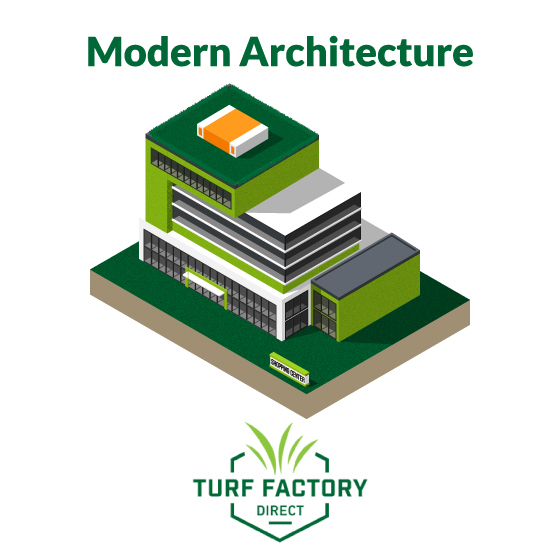 Modern Architecture
With artificial turf, you can create green modern architecture and industrial settings that bring the feeling of nature into a space. 
Decks & Balconies
A rooftop turf or deck turf feature has that luxury appearance that can't be beat and can increase a home's value. Plus, it can give pets and kids an area to enjoy that's similar to natural grass, providing traction for playtime and fun activities. 
Roofs & Walls
Installing artificial grass on your roof has a lot of benefits. Turf absorbs and retains a lot of heat, which can be a con for lawns in hotter climates, but it can be useful too. Turf also can double as insulation for homes, which can be energy-saving and eco-friendly. 
Vertical Applications
Affix turf to different objects and surfaces for a unique appearance.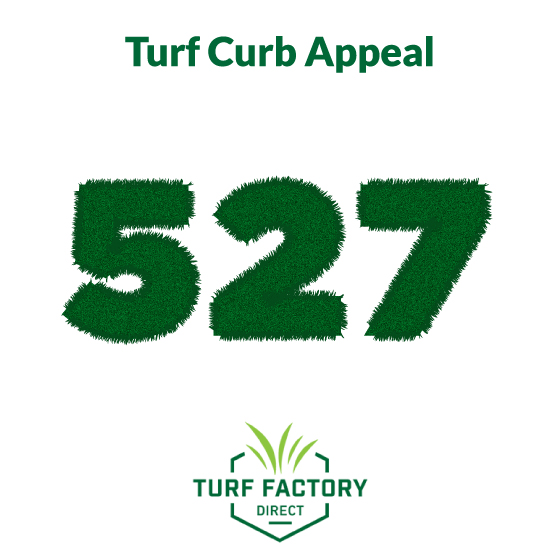 16. Curb Appeal
Make your home stand out with turf–either on the lawn, or as a house number. Creative house numbers is a trend in curb appeal because it's a small and simple, but effective way to give your home some personality and make a good first impression to visitors and passerby. That first impression provided by curb appeal is a subtle factor in increasing your home's value.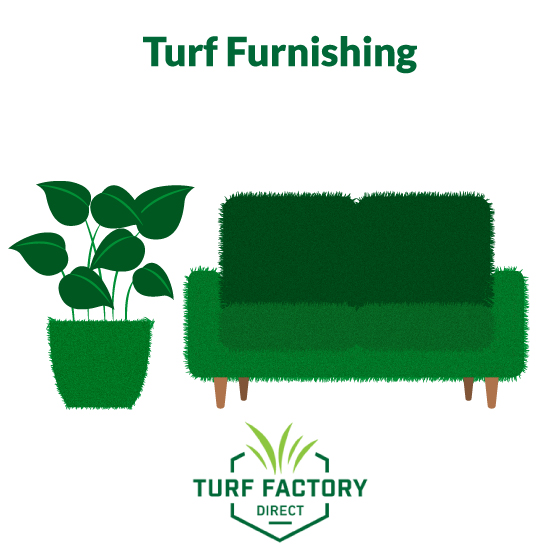 17. Turf Furnishings
Turf Furnishings are on the wackier side of uses for artificial grass, but worth mentioning. Okay, so, lining a chair with turf may not be the most practical or comfortable thing. It has been done, and iIt falls into the realm of modern art. People do it just to say they did it, and it is an interesting sight to look at. 
There are other similar ways of using turf in your home though. Affixing artificial grass to a bookcase or a lamp creates a unique and aesthetically pleasing ambiance in your home. The nice thing about turf is that it's a way to bring the feeling of nature indoors without the mess, or needing the love and attention from a green-thumb.  
Indoor Applications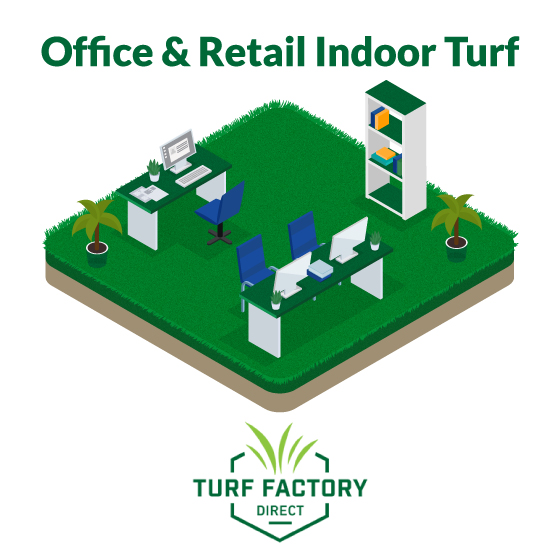 18. Turf for Modern Interior Spaces
Modern landscaping can be elevated by artificial turf, and so can interior design with indoor turf and indoor grass. Here is just a few examples of how artificial turf can boost an interior space:
Offices

Retail spaces

Gyms

Restaurants

Classrooms

Spas

Leisure spaces

Lounges

Reception areas 

Yoga studios

Cafes
Artificial grass is a great way to bring nature indoors. You don't have to spend time trying to keep it alive and worry about watering enough or watering too much like ordinary houseplants. There's no mess, no allergies, and it's not toxic to pets like certain flowers and plants–if kids or pets try to eat it, they won't be able to bite off pieces and ingest them very easily. Turf brings color and texture to a room, and compliments a variety of styles. 
Hopefully our turf pictures have left you with plenty of ideas. Now that you know how stylish and practical turf is, and have turf images for inspiration, think about how you can enhance your space with artificial turf! But don't forget its typical uses for lawns and pets.
If you're looking to get started with your own turf project, you can get in touch with our experts, or even start browsing our extensive product line. Remember, when it comes to creative spaces, the sky's the limit! If you're curious about artificial turf, read one of our articles on the subject, or get in touch with one of our experts.