All You Need to Know About Football Turf 
Football has one of the largest fan bases countrywide. People tend to concentrate more on the players and forget the field used for playing. The field of play is a significant part of the game because players feel comfortable playing on a well-laid-out turf.
Many NFL players prefer playing on artificial turf compared to natural grass. Currently, 14 NFL stadiums use artificial turf, while the other 16 NFL stadiums use natural grass.
What Is Artificial Turf Made Of? 
Artificial turf consists of yarn fibers, or artificial blades, woven through a backing. These blades are commonly made from nylon, polypropylene, or polyethylene fibers. The backing may be made of perforated felt, latex, polyester, or polyethylene.
Football turf usually consists of monofilament polyethylene-blend fibers tufted into a polypropylene backing.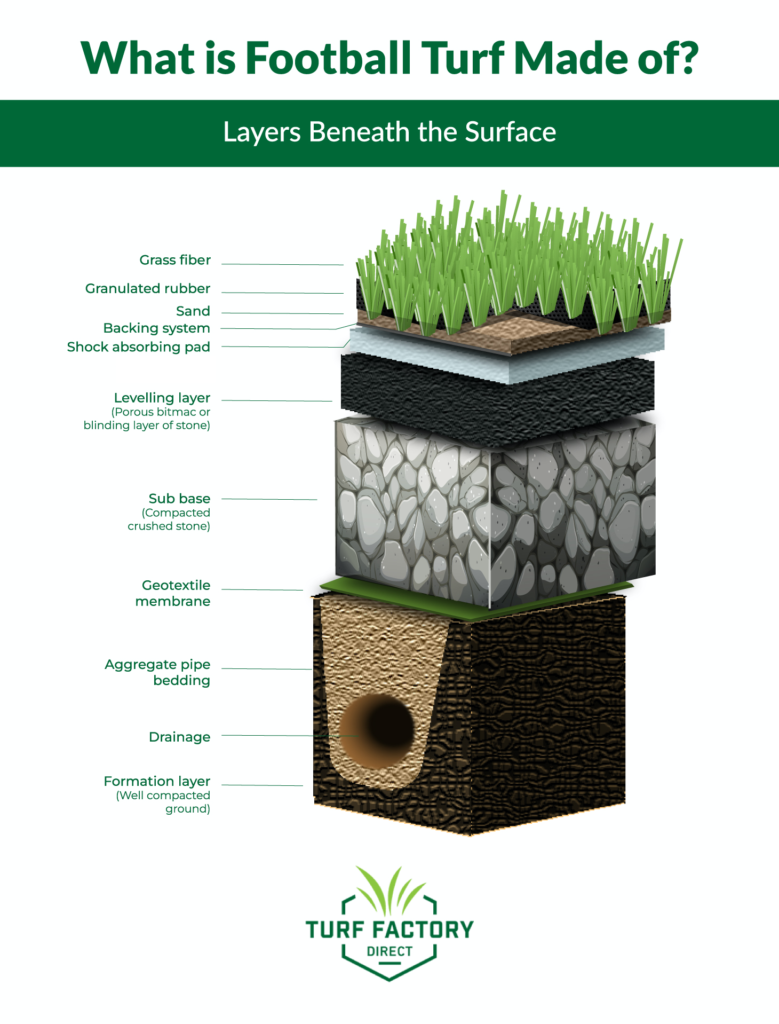 Below the Surface: Synthetic Turf Field Layers
Properly installing artificial turf usually consists of several layers; an attribute that makes them efficient and durable. Below is an overview of the layers:
1. Turf Sub-Base
This is the surface on which the turf sits. You can install artificial turf on various surfaces, from indoor and outdoor concrete, to soil.  Before installation, it is essential to evaluate the base for drainage level, padding, and more.
2. Base of Leveled & Compacted Permeable Aggregates
A synthetic turf field has to be built using a strong foundation. Proper drainage and long-lasting effects will mostly depend on a great foundation. This brings you to permeable aggregates.
To lay a long-lasting turf, you will require a layer of permeable aggregates to fulfill two objectives: helping with the drainage of the field and ensuring that the ground is flat and stable for playing. Drainage pipes may be installed to help in the divergence of water from the field.
3. Shock Pad Technology
Its purpose is to complement and increase the resilience afforded by the turf's fibers and infill. The pad also ensures a balance between shock absorption and consistent firmness.
The creation of a pad involves molding polypropylene in pattern-textured panels. A correctly molded pad will have channels that drain water beneath it. The interlocking of panels also allows the mitigation of shadowing through the turf and accommodates thermal expansion.
4. Turf Thatch
This is the yarn or fibers that give the artificial turf its plush "grassy" texture. The fibers provide a realistic texture of the turf and color variation for a more natural appearance, in addition to traction.
5. Turf Infill
The infill is made up of granules spread on top of the turf and between the grass blades. Its purpose is to weigh the base down and ensure that the individual blades are upright. An infill also assists in proper drainage and traction. Depending on the need, the infills come in different varieties. If the football field is an indoor facility, it may or may not use infill. Commonly used football turf infills are silica sand, crumb rubber, and acrylic coated silica granules. A part of regular turf maintenance includes adding and redistributing infill occasionally.
Which Is Best Between NFL Turf & Natural Grass? 
1. Turf Requires Minimal Maintenance
One benefit of artificial turf is that it requires very minimal maintenance. The cost of tools, supplies, and labor to keep grass alive add up to a significant amount, and makes the initial cost of turf installation seem miniscule.
2. Turf has a Consistent Surface
Constant volumes of foot traffic can create unnecessary pathways on natural grass. It may also cause ruts or bare spots on this surface. Artificial turf is very resilient and readily absorbs the constant pressure of walking, running, and tackling. This is because the turf's blades usually bounce back and remain upright with regular maintenance.
Additionally, artificial turf absorbs shock, is non-abrasive, and accords anyone using it with proper traction to help prevent injuries. Artificial turf's versatility, durability, and texture offer an ideal sports surface for playing.
3. Artificial Turf is for Any Climate
Natural grass requires sunlight to thrive and can quickly fade and die when over or under exposed to sun, water, use, and drought. Artificial turf retains its color, texture, and length for a consistent playing surface, regardless of climate.
4. Turf is Durable 
Artificial turf can last for 10-15 years with proper turf installation and regular turf maintenance. Artificial turf's resilience also makes it last twice as long with minimal care. The longevity of these turfs is due to the incorporation of UV- directly into their resin, which keeps them from fading and degrading. This means that installing artificial turf helps save a lot of time and money.
5. Turf is Cost-Effective
What is the average installation cost of artificial turf? When looking to install artificial turf, the cost is the first thing you should consider. This will help you plan your budget correctly. Many factors may go into the overall costs of installing the artificial turf. Below are a few of them:
The Field's Size: The installation costs will usually depend on the size of the field. A larger field will cost more in comparison to a smaller one.
Climate: Climate may be a huge factor, particularly when considering aspects of drainage and care. It may depend on the amount of rainfall an area receives or the terrain's state. This means that you may need to put a different drainage system in place to help save time and money by preventing damages.
Materials: While it is relatively easy to calculate the costs of materials, they can vary greatly depending on location. You only need to determine the field size and proceed from there. Some significant facts to note regarding costs include:
Artificial turf costs an average of $2.00 – $5.00 per square foot. This depends on the variety and quality of the turf.
The base to be installed underneath the turf to ensure drainage costs $4.00 per square foot.
Turf Factory Direct for Quality Football Turf
Considering turf for your football field surface? Turf Factory Direct has a massive selection of artificial turf at prices that suit your budget!
Start browsing our selection of high quality turf or contact us with any questions!