Did you know that you can easily secure artificial turf to concrete? While it might not seem like it's something easily done, you can actually make it happen with a minimum amount of stress. We'll show you how.
5 Considerations Before You Start
Before you can get working, it's important to ask some questions about the concrete and the surface you're working with. 
1. What is your budget and timeframe?
A budget will help determine how much and what kind work can be done. It narrows down your selection of turfs, adhesive, and tools. Knowing when you need to get things done by will help you plan what, and how it needs to get done. Certain steps of the process will take anywhere from hours to a day to complete before moving on to the next step. 
2. What's the space being used for?
Bathrooms, locker rooms, and stands are important to consider when determining how much space will be dedicated to the field, and how much turf will be installed.
Is it for personal use, or will many other people want to use it too? 

Will there be spectators? 

Concessions? 

What other amenities are included? 

Is it for people or pets?
3. What kind of turf do you need? 
Your budget and what the space is being used for can help you determine what kind of turf you should use. Different varieties of turf have been developed to fit specific needs for a given surface, activity, or environment. Turf is versatile, but it's important to pick the right turf for the job. Varieties of turf that you may secure to concrete include:
It can be helpful to know what thickness of turf you want, as well as pile height and other details like color. 
4. How much material do you need?
When you're planning out your dimensions, measure twice, cut once. You don't want to order too much turf or supplies and have it go to waste, nor do you want to run out in the middle of the project and have to get more. It's a good idea to overestimate a little bit in case of miscalculations and replacements for mistakes. This affects your budget and time-frame, the bigger the space, the more turf needed and the more time spent on installing it. 
5. Do you have a plan for installation?
If you're working indoors, like in a warehouse, barn, or a structure, ventilation is important for indoor sports spaces, both for players, and when preparing the area for use. You want to make sure that there's some ventilation for both installation and when the facility is in use. 
Logistics are tough, but an important step in planning. Make sure you have a good place to bring supplies in, and an easy way to take waste out. 
Don't get ahead of yourself, know your space before starting, and plan for what and how it needs to get done. The installment will go smoother, and the result will be more successful in the long term.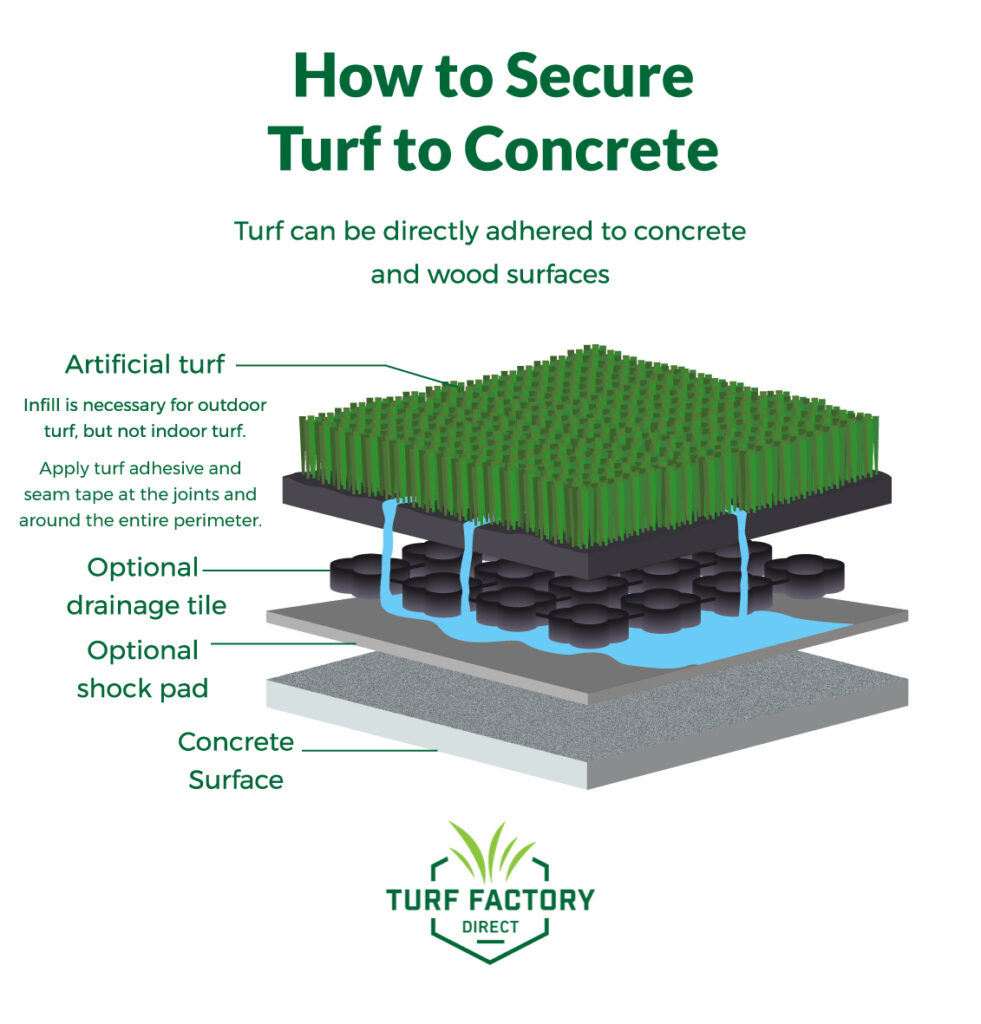 How to Secure Turf to Concrete
While there are some key differences, securing artificial grass to concrete is not that different from securing it to the ground. It requires a level surface that is free of debris, and is secured at the seams with seam tape and seam adhesive. The biggest differences are how it's secured at the perimeter and the absence of a gravel base. 
Tools to secure turf to concrete:
Tape measure

Utility knife

Trowel

40-75 lbs. Roller

Gloves

Rake 
Materials
Artificial turf

Turf seaming tape and adhesive

Turf infill 
Optional materials
Step 1. Prepare the Concrete Surface for Turf 
This guide is going to assume that you've installed concrete, and you've given it 45-60 days to cure. You don't want to damage the floor during the cleaning process, so making sure that you've got a solid base to work from is essential. 
First,  thoroughly clean the floor of any debris, chemicals, dirt, grime, mold, or buildup. Sweeping, mopping, vacuuming, or powerwashing are essential to the short and long term success of your artificial turf. 
Wait 48 hours for the surface to dry and the chemicals in the cleaner to completely leave the surface.
Turf can be applied directly on a concrete floor. Some people like the extra cushion of padding. Artificial grass adds traction and some padding to tread on, but it's worth considering adding a little extra cushion with textiles or athletic panels for comfort. It will affect the cost, installation time, and the result. It's a matter of personal preference and is not required.
Turf has excellent drainage and doesn't require additional drainage for outdoor hardscape surfaces like putting courses, batting cages, concrete patios or wood decks. Indoor turf typically does not require drainage because it typically does not come in contact with enough liquid to require drainage. 
However, indoor facilities intended for pets should have a drainage system in place specifically for pet urine, such as PDS tiles, and leave a 6-inch gap around the perimeter to provide a place for urine to go where it can be easily cleaned. 
If installing an additional layer of padding or drainage, follow those instructions and then proceed with turf.
Step 2. Prepare the Turf 
Before you start cutting, unroll the turf and allow it to relax on a flat surface for at least an hour before installation. Some professionals will even say to let it rest for two to six hours, or even a full 24 hours. Ideal installation temperature is 55 to 95 degrees Fahrenheit. This is an important step because the panels of turf will be compacted and prone to curling up from being packaged. 

Make sure that you measure and cut the turf so that it'll fit properly in the space, and ensure that you allow enough extra space for the panel for trimming and edging the turf. 

Lay out all the panels in the space and trim to size where needed. 
Step 3. Bond & Seam the Turf
Make sure that the area that you spread your bonding material over is one-half the size of the strip of turf being glued.
Start at the far end of the deck and spread a layer of turf adhesive. Use a notched trowel held at a 45 degree angle to lay the correct amount of adhesive. Use a v-notched trowel for smooth-backed carpet or a square-notched trowel rough-backed turf. 

Lay the first section of turf on top of the adhesive and firmly press it into place.

Apply adhesive for the next section. Place the second section and butt it against the first. 

Apply a bead of turf seam sealer along the entire seam. Continue laying adhesive, installing turf sections and applying seam sealer to all joints until the entire deck is covered.

When you place the adhesive, you should allow it to air dry for 15-30 minutes before laying down turf. This time might vary based on pressure and air flow around the installation area. Make sure that you don't apply adhesive to a greater area than you can cover with turf in a realistic time frame. One panel at a time. 

Once you've applied the turf to the adhesive, you'll need to apply pressure to help the curing process along. You can place weights on it, roll it with a 40-75 pound roller 

Allow 24 hours for the adhesive to set.

Trim off any excess turf along the edges of the concrete with the utility knife.
Step 4. Spread Infill 
Infill helps weigh the turf down while allowing the bristles to remain upright. It also adds cushioning on athletic surfaces. Materials that are commonly used include black crumb rubber and washed silica sand. There are a wide variety of infills to choose from, and the vast majority are pet friendly, but make sure to check in advance before purchasing, so you don't accidentally end up with an infill that can potentially harm your pets. 
As you spread the infill, brush the turf with a rake or a power broom between each application of infill material. Finally, watering the turf afterwards will help settle the infill.
5 Reasons to Put Turf on Concrete
Why put turf on concrete? There's a number of reasons to attach turf to concrete! Here are some of the most common arguments for doing so:
1. Turf is safe 
Unlike concrete and other hardscapes, artificial turf doesn't get slippery when wet, and is non-abrasive and shock absorbent. Overall, turf makes for an athlete-friendly, kid-friendly, pet-friendly, and even klutz-friendly surface. Plus, you can add additional cushioning with rubber shock pads to make sure that it's even softer and safer for running, jumping, rolling, and falling. You can also anchor a swing set to turf for a safe and fun landing zone for safe play. Unlike some plant varieties, turf is non-toxic and not a choking hazard. 
2. Turf is versatile 
Artificial turf can not only replace natural grass, it can be used for a number of applications that natural grass can't, such as roofs, concrete, wood decks, and around pools! You can explore landscaping inspiration and discover how versatile turf can be in our guide to Inspiring Artificial Turf Ideas. Turf Factory Direct has turf to fit any need:
3. Turf is low-maintenance
Artificial turf is easy to maintain, No watering, mowing, fertilizing, or reseeding is required. All you need to do is make sure that it properly drains, and is cleaned bi-weekly or monthly. 
4. Turf is attractive
Well installed and maintained artificial turf looks beautiful all year long. Want a verdant, green yard all year-round? No problem with artificial turf. On top of all that, turf can increase curb appeal which can increase property value and help sell a home fast.
5. Turf is budget-friendly & environmentally-friendly
If you're looking for a way to add greenery to an urban property, turf is the answer. Keeping a lawn green in drought-prone neighborhoods can be challenging and a waste of a precious commodity — water. Turf lawns save water, money, and time that would be spent making your lawn attractive, without having to give up the lush greenery. Some cities offer homeowners a rebate to encourage more conversion to artificial turf to conserve water. Find out how much artificial turf can save you by checking out Understanding the Costs of a Natural Lawn.
Turf also helps you reduce and prevent use of harmful chemicals like fertilizers, pesticides, and herbicides that contaminate the ecosystem. You can learn more about The Water Saving Benefits of Artificial Turf and why it matters from The Importance of Water Conservation.
Turf Factory Direct is Your Turf Expert
If you've got turf needs, Turf Factory Direct has you covered. We have turf for every possible use, including sports fields, landscaping, and pet turf. Get in touch with us today to see what we can do for you.