Having a small backyard doesn't mean you have to give up on the idea of having a playground for your children. With careful planning and creative design, you can create a fun and safe play area that maximizes the limited space available.
And you're in luck, because in this article, we will explore various small backyard playground ideas to help you make the most of your outdoor space. However, before diving into the design process, it's important to first evaluate your backyard space. So let's get into it!
How to Evaluate Your Backyard Space
The first step to designing a fun playground in a small backyard is to evaluate your backyard space. So let's take a look at a step-by-step guide on how you can measure your space to ensure that everything fits:
Take measurements of your area and assess the available square footage for your backyard to ensure that everything fits.

Take note of any potential limitations, such as existing structures or trees, that may impact the layout of your playground.

Consider any irregular or odd-shaped spaces that could be utilized creatively, and think about how you can put that space to good use.

Consider multi-functional equipment that can serve multiple purposes, like bench seating with storage or sloping benches with lighting.

Consider incorporating vertical elements, such as climbing walls or treehouses, to maximize the use of vertical space.

Don't forget to

consider adding turf

to the floor to even the area out, making it safer for your children to play around.
The key to designing a stellar playground is to think creatively and make smart choices to make the most of your limited space. Now let's take a look at a few factors you need to consider when selecting your playground equipment once you know how much space you have.
The 7 Considerations to Keep in Mind When Selecting Your Playground Equipment
When it comes to selecting playground equipment for a small backyard, there are quite a few factors you need to keep in mind. So, let's take a look at the considerations for designing the perfect playground for confined spaces:
Ensure that the equipment meets safety standards and is suitable for the age range of your children.

Consider the space-saving potential of each piece of equipment by researching various models and suppliers to ensure you get the best deal.

Look for equipment with rounded edges, non-slip surfaces, and durable materials.

Ensure that the equipment is designed to withstand outdoor elements and regular use.

Opt for compact and versatile playground equipment that doesn't take up too much space.

Look for swings with a compact footprint or a slide that can be integrated into existing structures.

Consider modular play sets that can be customized and rearranged to fit your space requirements.
By following these simple tips, you will be sure to have an entertainment area that will keep your kids entertained for hours and will blend seamlessly into your small backyard. Now, to make it blend with nature, let's take a look at how to incorporate natural elements into your design.
How to Incorporate Natural Elements into Your Design
One way to make your small backyard playground more visually appealing is by incorporating natural elements, which can enhance the play experience of your children and create a sense of tranquility in your outdoor space.
If you have trees in your backyard, incorporate them into your playground design by hanging a tire swing from the branch or building a treehouse around the trunk. You can also use natural materials like rocks and logs to create stepping stones or seating areas.
Furthermore, consider adding a sandbox or a small water play area to your backyard playground, which are not only fun for children but also provide sensory experiences for them. A sandbox can also be easily enclosed to prevent sand from spreading throughout the yard.
So, now that you have all of the elements to your design, let's take a look at some tips to create a safe place that your children will spend hours on end playing in without harming themselves. 
The Safety Considerations to Optimize Your Playground
While the aesthetic aspect of your design may be a bit more fun to think about, you also want to make sure that the playground you design for your children is a safe environment. So let's take a look at 5 safety measurements that you may want to apply to your design to make sure your kids are safe while playing:
Make sure that the equipment you buy is in the age range of your children, which you can check in the instruction manual of any playground equipment.

Uneven surfaces can lead to potentially life-threatening tilts in the games you select, so

make sure that your area is turfed

to ensure a smooth surface.

If you have never turfed an area yourself, we recommend reaching out to a professional service so that they can help you install it.

Make sure to cover all sharp corners or potential sharp areas with foam to ensure your kids don't harm themselves.

Consider higher-quality materials for your playground equipment, as they will resist the wear and tear of regular use.
By following these quick, simple steps, you will be sure to have a playground that isn't only entertaining but is also safe and functional, ensuring that your kids enjoy harm-free play for years to come!
The 5 Tips to Creating a Multi-Use Space
A small backyard can be challenging to utilize fully. By creating a multi-use space, you can make the most of every area and accommodate various activities. So let's take a closer look at how to achieve this:
Incorporate comfortable seating and shade options for parents to relax while children are playing.

Consider adding a gazebo or pergola to create a cozy outdoor living space.

Maximize storage options to keep the play area organized and free of clutter.

Utilize storage benches, outdoor cabinets, or dedicated toy storage units to maintain a clean and safe environment for your children.

Use

artificial turf

to create a safe and comfortable play surface. It's soft, low-maintenance, and ensures a clean environment for both kids and parents to enjoy.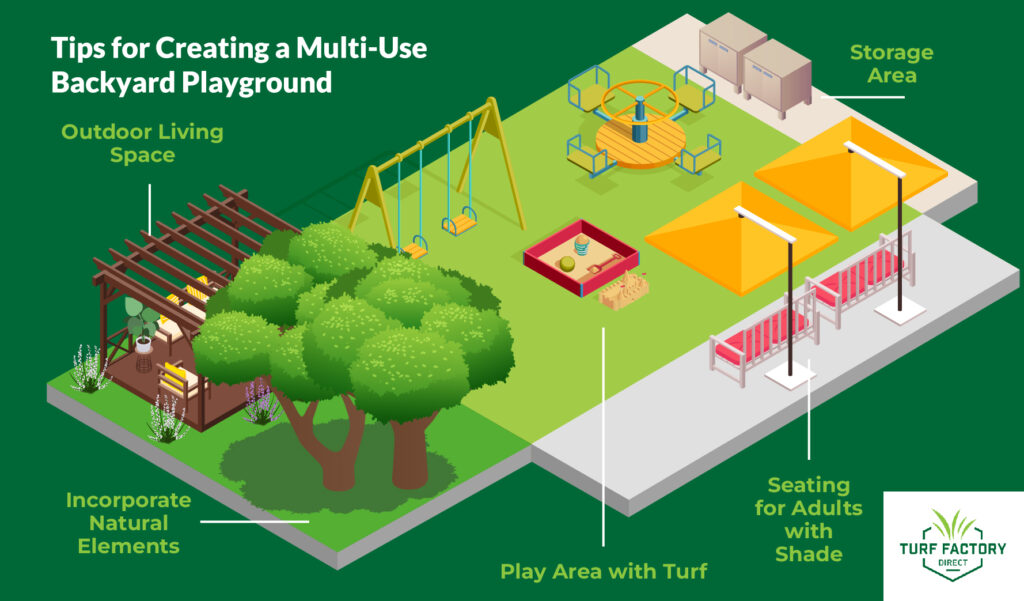 By doing this, you can optimize every inch of your space and turn it into an entertainment oasis for all of your family members. However, you do need to consider your budget, so let's take a closer look at how to achieve a playground design without breaking the bank.
How to Budget for Your Backyard Playground
Before embarking on your backyard playground project, it's essential to set a realistic budget. So let's take a look at all of the elements you need to consider to avoid overspending:
Research the average costs of playground equipment, installation services, and any additional elements such as seating or landscaping.

Factor in maintenance costs, including cleaning supplies and occasional repairs.

Consider purchasing pre-owned playground equipment to save on costs.

Look for local community organizations or schools that may be upgrading their playgrounds.

Explore DIY options for elements, such as seating or decorative landscaping, to cut down on expenses.
By sticking to these guidelines, you will be able to create an amazing space for your kids while staying within your budget. However, to save on expensive repairs, it's important to upkeep your backyard once it has been installed.
How to Maintain Your Playground
Once your backyard playground is installed, regular maintenance is necessary to ensure its longevity and safety. Just incorporate the following practices into your routine to keep the play area in optimal condition:
Perform regular safety checks to ensure that all equipment is secure and in good condition.

Inspect the playground for any loose bolts, cracks, or signs of wear and tear.

Check for potential hazards, such as protruding nails or wooden splinters.

Clean the playground regularly to remove dirt, debris, and any potential sources of contamination.

Use non-toxic cleaning solutions and rinse thoroughly.

Apply waterproofing treatments to wooden structures to protect them from the elements and prevent rotting or warping.
These tips will keep your playground in top shape so your kids can enjoy it for years to come.
Enjoying Your Playground
With these small backyard playground ideas, you can transform your limited space into an engaging and safe play area for your children. Embrace creativity, prioritize safety, and make smart choices when it comes to design, equipment selection, and installation.
Keep in mind that if you aren't an expert at installing equipment, turfing an area, or installing vertical elements, it will always be best to consult the pros, given that your kids' security is at stake. If you're looking to use artificial turf to create a safe and fun playground, check out the turf options available from Turf Factory Direct.
Remember to maintain the playground regularly to ensure its longevity and continued enjoyment for your family. And don't be afraid to keep adding new elements to your playground oasis as you think of them. Happy playground designing!