When it comes to your pets, you don't want to accept anything but the best, and that includes the turf that they're walking around on. While some forms of artificial turf aren't particularly suited to pets, others are perfect for keeping pets healthy. This article will be your guide to discovering the best and friendliest artificial turf for pets around. 
How artificial turf for pets is different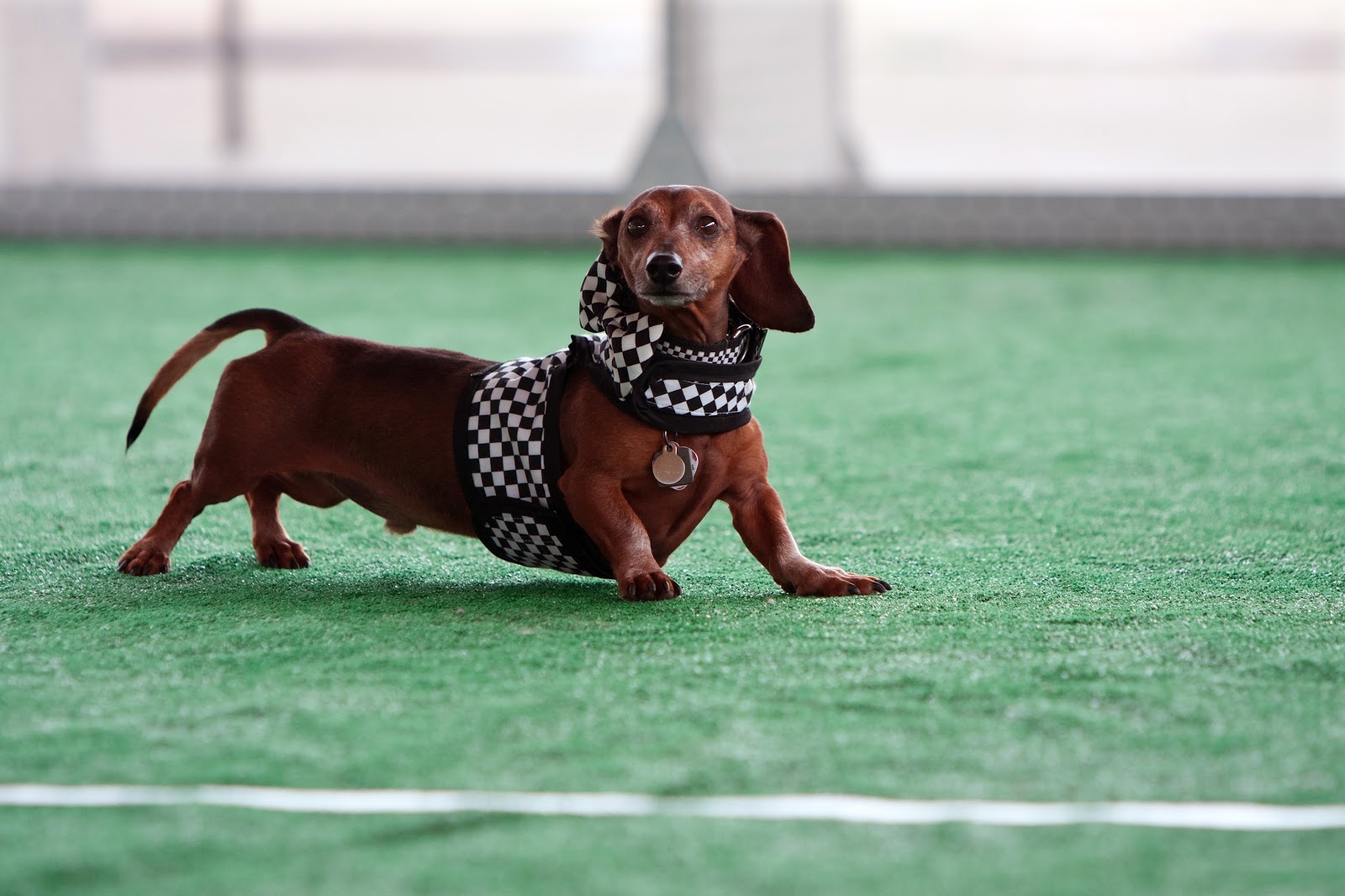 Artificial turf is usually backfilled after installation, as this keeps the blades of grass in the turf standing upright, as well as helping provide proper drainage in the event of rain.  
Luckily, there are several options that make artificial turf suitable for pets. One option is to use a silica infill. Most of these infills are treated with antimicrobial coating that keeps them safe from bacteria and microbes. Additionally, silica has a naturally cooling effect on hot days, protecting those pet paws from uncomfortable heat. Avoid using rubber backfill, as these can get quite hot and don't have the anti-microbe fighting powers. If you're unfamiliar with the variety of turf infills check out our guide, or consult our glossary of useful terms to know about turf. 
There are also types of turf that do not require backfill so that any pet urine will simply drain through into a gravel bed underneath. This can also be a useful solution when dealing with creating a yard where your pet can use the bathroom. 
Finding the right type for your animal
Turf Quality

– Synthetic grass and artificial turf come in a wide variety of grades and quality levels. Finding one that is comfortable, soft, and the natural-looking blade will make your pet far more comfortable. Remembering that

artificial turf can last up to 15 years

might also make a big difference as well–you want to be sure that you've picked the right turf for the job. One of the additional benefits, regardless of which type of turf you choose, is that artificial turf is claw-resistant, meaning that your pets will not likely want to dig or tear it up either.

Odor mitigation

– One of the number one problems for pet owners is bad smells. Your animal will be depositing waste out on your artificial lawn, so you want to make sure that the type you've picked is the best for facilitating drainage. Once you've got it installed as well, regularly washing with water and/or a water/vinegar solution will help keep everything clean and odor-free.

Quality of installation

– This doesn't necessarily correspond to

picking

the right artificial turf, but ensuring that you do the proper installation (like we've talked about in other blog posts) is critical when installing artificial turf for pets because of the consequences of a poor installation can be much more severe. Pets can be destructive, and ensuring that everything is built to drain properly and is tacked down is important. If you're new to the world of turf, check out our

handy installation guide

!

Infill

– As mentioned above, going with silica granules for your infill is a solid option, as the anti-microbial coating and its natural cooling properties will keep your pets comfortable when they're walking around. 
Installation information
As with normal artificial turf installation, you want to follow the normal preparatory steps: leveling the ground out, making sure that you've weeded, and set up and compacted a proper drainage area. After you've laid the turf and tacked it down, then there's the extra step that makes the turf safe for pets: putting in some odor-controlling and pet safe artificial turf infill. Once you've installed your turf, take a look at our maintenance guide to learn how to clean up pet waste with ease and efficiency. 
There are quite a few different brands on the market. Zeolite is usually a good bet, and Biofill can be a great option as well. Just double-check that whatever fill you pick is pet safe. 
Where to buy
Turf Factory Direct is one of the US' leading suppliers of excellent pet-friendly turf. Here are a few examples of our products that we recommend for helping your pets stay comfortable and happy when they're in the backyard: 
TFD Superior Spring

provides 60 oz. of Mono-320 Micron Spring at 1 1/8″ pile height. This is perfect for a clean-cut look for the backyard. 

TFD 80 Spring PLUS

is 80 oz of PE monofilament tufted on 1/2 gauge with field/lime primary and secondary tan thatch a pile height of 1 3/4 inch and is tufted into 2 layers of polyback. It's taller than superior spring and has a plusher feeling. 

TFD K-9 Supreme

is a heavy-weight pet/landscaping turf option, with a face weight of 69 oz. It's perfect for creating a pet playground and is priced competitively to stay within budget. This hybrid turf can be used in any turf application.
If you've got questions about finding the best pet-friendly artificial turf, or you're looking for some assistance with installation, we're your turf experts. Get in touch with us, or start browsing our pet-friendly products today.