There are hundreds of different types of athletic shoes on the market, and many of them range from astronomically high-priced ones with all the bells and whistles present in modern shoemaking, while others are more affordable, while still providing the features an indoor soccer player might need. Regardless of what sport you're playing, this guide will provide a breakdown of shoes based on different types of activity, including the best soccer cleats for turf and grass. If you're concerned about the safety of turf, or just interested in learning more about its benefits, check out some more of our resources!  Read on to discover more. 
Modern Features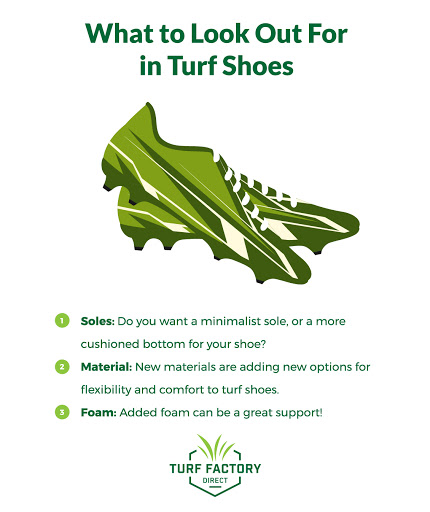 There are plenty of exciting new features that are being utilized in modern shoemaking that can upgrade your feet. Knowing what the important new features are and how they'll impact performance on indoor turf will help keep you in the right headspace (and footspace) for competition. Indoor football shoes and indoor soccer shoes both have adapted to the latest developments. 
Soles – Many different shoe manufacturers are pushing the envelope when it comes to sole materials and what you can do with them. For instance, some indoor turf shoes have a more minimalist sole, while others provide more cushioning. Determining what's the right fit for you is essential when you're shopping around. 

Material – The material of the outsole and insole of the shoe matters too. There are many different materials being implemented in a variety of different contexts. You'll find shoes that flex easier or harder, depending on the environment. Companies like APL are pushing the envelope too, by adding in metallic knit running shoes too. 

Foam – The foam's the thing when it comes to a good insole, and finding one that's comfortable and flexible to meet your performance needs is always a good bet. While it's not being adapted to indoor turf shoes yet, companies like New Balance are starting to offer

custom 3D-printed soles

. 
Ankle Support
An important consideration in any sort of athletic shoe is finding good ankle support. As this article outlines well, shoes with ankle support reinforce the ankle, but might cause the muscles that protect your ankles from sprains to activate more slowly. Regardless, the best choice is to strengthen ankles so that they can handle the strain of getting worked over in a competitive environment. 
Luckily, there are indoor turf shoes that fit both needs. If you're looking for a shoe with a more minimalist ankle, something like the Puma ONE 18.3 are a great solution. On the other end, the Nike Mercurial Superfly provides extensive ankle support that will last. 
For the Indoor Soccer Player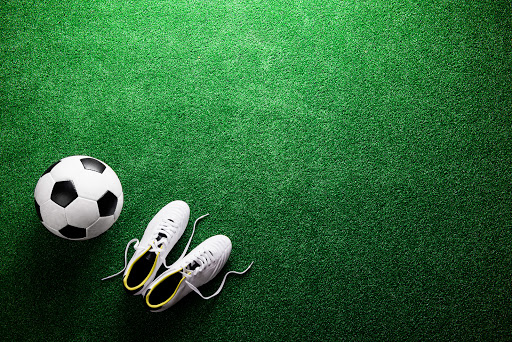 One of the most common uses for indoor turf soccer shoes is for indoor soccer, so naturally, there's a huge supply and selection when it comes to shoes for the sport. We'll go through some of the more popular and highly-rated artificial turf soccer shoes. 
Adidas Performance Mundial Turf Soccer Cleats

– Made from kangaroo leather, this is adidas' flagship shoe that's designed for indoor play. It features short studs that are perfect for synthetic grass, it's affordable, and it can be used on hard dirt as well. Overall, a solid, durable choice. 
Nike MercurialX Victory VI CR7 Turf Soccer Shoes

– These shows are designed for both men and women, but in both instances, they're an ultralight shoe that's affordable and has an impeccable sense of style. Indoor soccer shoes made by Nike are almost always a good bet. 

Joma Men's Dribling Turf Soccer Shoes

– Perfect for beginner players, these shoes have an excellent insole for the price, and they are solid and durable for those just getting started out. 
Budget conscious options
The thing to keep in mind with shoes, is that you often get what you pay for. Cheaper pricing means cheaper materials, which results in a less comfortable and less performance-minded shoe. The shoes listed below are great for beginner players, or those who are looking for a more affordable option for periodic soccer play. 
Playing in Style

First up, for the aesthete among you, we have a wide variety of different options. Finding indoor turf shoes with plenty of flair is a great time, and there are plenty of different shoes to choose from, many of them optimized for play on indoor turf. 
Living up to its name, the Nike Mercurial Superfly is both optimized for performance and style. It comes in a variety of colors and is sure to impress both on the pitch and off. 
The New Balance Furon line packs both retro style and performance into a shoe that's built for play on turf, with options that have cleats, and some that are built for less aggressive pitches. 
Finally, the Adidas X Firm Ground 18.3 line packs affordability, style, and suitability for the pitch into one neat package. 
Watching out for Good Turf
Can you wear indoor soccer shoes on turf? Well, shoes are just one part of the puzzle. Making sure to play on well-constructed and safe artificial turf is essential for avoiding injury. Testing out the surface that you're going to play on to make sure that it is safe and secure so you won't slide and risk turning an ankle or another injury. To make sure you're playing on the best surface, it's worth learning about the lifespan of artificial turf and about its maintenance. 
If you've got a question about artificial turf, we're the turf experts. Get in touch with us, and we'll walk you through the warning signs of poor turf installation, and put you on the right track to potentially even starting an artificial turf project of your own.